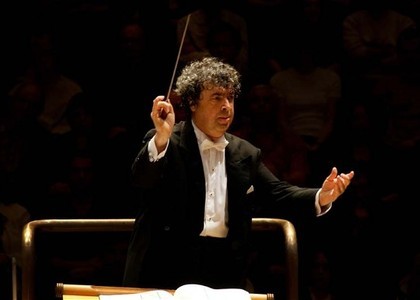 Austrian Brilliance at the Great Palace Hall
Wednesday, 16 September 2015 , ora 12.25

The Great Palace Hall turned out to be too small for the first meeting between the
Vienna Philharmonic Orchestra
and the
'George Enescu' International Festival
's audience. This performance encompassed two centuries of music and impressed through the stylistic rigour of each and every one of the musical worlds that we were brought into by the Viennese musicians.
During the Symphony No. 44 by Joseph Haydn, they mastered the small nuances. It was a fully refined performance of Haydn, during which the highlighting of details was the primordial aim.
Succeeding it, was the Wesendonck Liederby Richard Wagner, remarkably performed by Elisabeth Kulman, an artist with an impressive voice, extensive and equally qualitative vocal range, widespread phrasings, shining technique and perfect diction. This dance of colourful sonorities and the wide palette of nuances have led to an unforgettable performance.
The concert ended with Tchaikovsky's Pathétique Symphony. It was during The Symphony No. 6 that we could best feel the felicitous collaboration between the conductor Semyon Bychkov, with the strong Russian influences from his past, and an exceptional Austrian orchestra, renowned for its sonorous quality, precision and individual value put in the service of the entire ensemble.
Fortunately, the Vienna Philharmonic Orchestra will hold two concerts within this year's edition of the 'George Enescu' International Festival. We are all eagerly looking forward to listening to the Enescian and Brahmsian opuses that will be performed tonight by the Austrian musicians
Sebastian Crăciun
Translated by Alexandra Velicu and Ioana Săbău
MTTLC, the University of Bucharest