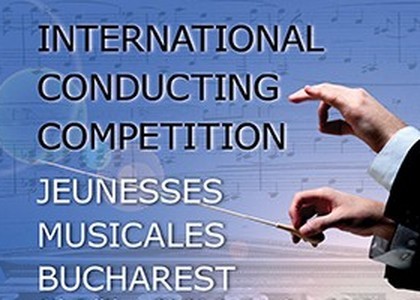 The Beginning of the Sixth Edition of the International Conducting Competition 'Jeunesses Musicales' Bucharest
Thursday, 24 September 2015 , ora 12.36

The sixth edition of the
International Conducting Competition 'Jeunesses Musicales' Bucharest
started on Tuesday, 22
nd
September, 2015. The moment was marked by a press conference hosted at the Small Hall of the Romanian Athenaeum.
'It is very important to attend such an important competition. Nowadays it is very difficult to build a career, to find an open door, to make yourself known. Agents and managers need more data than a name, and such a competition is a very good opportunity to develop properly.'
Mark Stringer is a Professor of Orchestral Conducting at the University of Music and Performing Arts in Vienna and the International Conducting Competition 'Jeunesses Musicales' Bucharest's jury president. The sixth edition of this competition, which is dedicated to young conductors of all nationalities under the age of thirty five, took place in 2015. The manager of the project, Laurențiu Dașcă, talked to us about the evolution of this competition:
Fifty young conductors are attending the first stage of the 'Jeunesses Musicales' Competition. On Saturday, 26th September, the three finalists will appear in front of the audience to perform a concert on the music rack of the 'George Enescu' Philharmonic Orchestra in Bucharest. Their performance will determine the final standings.
The conductor Sigmund Thorp, a member of the jury, talked to us about the qualities that are required to arrive to the final stage of this competition.
'Personally, I want to find strong musical individualities. Obviously, all the participants must present a very good technique and communication with the orchestra. Then, I am interested in their vision upon the work that they have to conduct. We're looking for performances that are authentic, above all.'
Lucian Haralambie
Translated by Iorga Elena Alexandra and Ioana Săbău
MTTLC, the University of Bucharest