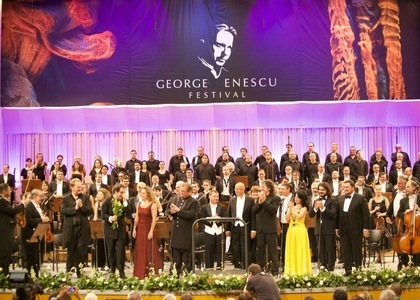 With Wozzeck ahead towards… The Music of the Twentieth Century
Tuesday, 15 September 2015 , ora 15.11

The
Wozzeck
performance last night (Monday, 14
th
September) at the Grand Palace Hall seemed faultless to me. I have only a few small observations to make. It was a concertante version that surprised me, not through the technical interpretation of Alban Berg's music - an extremely difficult score, both vocally and instrumentally ! - but mostly through the ability of all the artists on stage to express the emotional intensity of this drama; a great gift that was offered to an audience which occupied less than half of the hall - what a pity! - but its members were aware of the fact that they were witnessing a historical moment: the first
Wozzeck
performance in Romania, 90 years after its absolute premiere in Berlin.
A Wozzeck performance that was held under the baton of a conductor who seems to have some extra neurons trained for the comprehension of the contemporary compositional language. The British Leo Hussain (who is going to offer his version of Enescu's Oedipus to us on Friday) was accompanied by some of the best German soloists. One of them was the German baritone Michael Volle, whom I would like to mention first due to his powerful voice and because he is an artist who fulfilled all the expectations with the high amount of expressiveness and physical suggestiveness that he invested in the title role.
A Wozzeck performance with a spectacular Marie - interpreted by the soprano Evelyn Herlitzius, whose vocal substance was not affected by anything she experienced as a character; a performance with a… 'succulent' doctor - interpreted by the bass Martin Winkler; a garrison captain relishingly interpreted by the tenor Arnold Bezuyen; a Drum Major that was very accurately portrayed by the tenor Marius Vlad Budoiu; two… pretty nice apprentices interpreted by the baritone Șerban Vasiliu and the bass Valentin Vasile; with Cosmin Ifrim, who was extremely convincing, both as of Andres and the Madman; and last, but not the least, with the mezzo-soprano Maria Jinga, who was very suitable for the role of the shocking neighbor, Margret. And at the end, the incredibly pure timbre of the young male soloist of the children's choir trained by Voicu Popescu rose above all and was a plain delight to us all...
What an airy vocal ending was the one that Leo Hussain brought to relieve the pressure of a concert that was performed by the choir, which was trained by Iosif Ion Prunner, and the 'George Enescu' Philharmonic Orchestra in a total abandonment to his accurate gestures! What an expressive abandonment - so wonderful and so rarely met in our modern/contemporary music concerts… Yes, it was an almost faultless Wozzeck performance with few observations for me to make (but I will abstain from them). Anyway, we all took a great step ahead towards… the music of the twentieth century last night.
Luminița Arvunescu
Translated by Negoiță Roxana-Beatrice and Ioana Săbău
MTTLC, the University of Bucharest