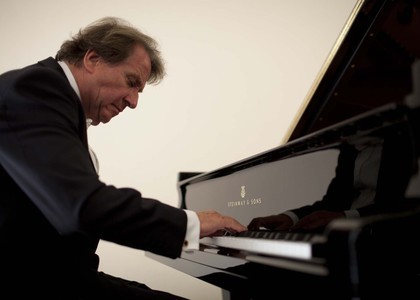 Symphonic Concert at the Athenaeum: Konzerthaus Orchester Berlin, Horia Andreescu and Rudolf Buchbinder
Saturday, 12 September 2015 , ora 10.06

It is still a mystery why the programme offered by
Konzerthaus Orchester Berlin
was included in the series entitled
Chamber Concerts and Recitals
. In fact, it was a welcomed 'mystery' and a situation that was very well-received by the members of the audience at the Romanian Athenaeum, who were fortunate to benefit from the very good acoustics in the hall. It was an exquisite symphonic concert offered by a highly disciplined orchestra, with harmonic and vigorous sonorities, a lot of energy, vitality, flexibility and elegance.
It is hard to describe in just a few words the moments that literally excited the audience, and the proof of that consisted of the repeated rounds of applauds that were offered to the orchestra. Under the baton of Horia Andreescu, the Symphony No.9 by Dvorak was a well-conducted rush of expressiveness with some lyrical stops and contemplation oases, with deep images that were created through sounds and precisely cut up by the soloistic interventions. By watching this ensemble, you realise it is a multinational one; by listening to Konzerthaus Orchester Berlin, you clearly get the sensation that all its musicians are on the same page, considering their professional performances, which are always precise, clear, unitary, without any romantic excesses…(that might sometimes be suggested by the score).
Spectacular and convincingly expressive through the chosen tempos, full of zest and contrasts, this so called 'new world' of Dvorak was 'chiselled' by the Berlin ensemble under the baton of Horia Andreescu.
In the afternoon's opening, the pianist Rudolf Buchbinder came back on stage for the Festival at the Athenaeum with Piano Concerto No.1 by Brahms. Although another artist was scheduled to perform instead of him, the reputation and the remarkable piano skills of Rudolf Buchbinder certainly made an event out of this performance. And it was an event, indeed, through his impressive and vigorous soloistic performance, through his glowing virtuosity, his vigour and the way he built up sonorous monuments by establishing a dialogue with the orchestra, which was led by him on many occasions. Buchbinder took over the instrument he was playing, the stage and the score and built a massive, tremendous and masculine Brahmsian edifice that also had occasional 'windows' of poetry, unobstrusive and sober lyricism, as it was revealed to us in the slower part of the Concerto. The highly requested encore (Georges Cziffra`s Paraphrase on themes from The Bat by Johann Strauss) confirmed through another entirely romantic soloist posture what we had already known: Rudolf Buchbinder is not only a piano virtuoso, but also an artist of an interpretative fantasy.
Anca Ioana Andriescu
Translated by Ilinca Elena Dinulescu and Ioana Săbău
MTTLC, the University of Bucharest