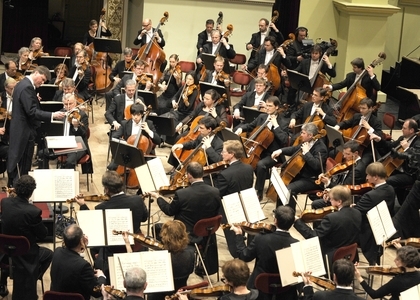 A Chronicle of the first Concert held by the Staatskapelle Dresden - 4th September
Friday, 4 September 2015 , ora 10.09

Don't count your chickens before they hatch - here you have a slightly wrong proverb, if we compared it to what happened on 4
th
September, 2015 at the Great Palace Hall.
Thus, I will start with the full half of the glass, the last two works from the programme. The Concerto No. 3 by Beethoven with Yefim Bronfman - the signature of a pianist with an impeccable mastery of the clavier, but who often suffers from a lack of need to escape from normality, by resigning into the arms of the common places. The exceptions were the slow and lyrical moments, such as the second part, the ending of the cadenza of the first part, but also the work that he oferred as an encore, Sonata No.11 in C minor K. 11 by Scarlatti, where Bronfman offered us the possibility to see his deep-reflective side. Otherwise, speaking from the pianistic point of view, the rendition was irreprochable.
The dynamic and incisive associate, Staatskapelle Dresden, which it is also capable of doing sophisticated vocal pirouettes, is the perfect partner in the performance metrics that were established by the charismatic Christian Thielemann.
The culminating moment was offered by the Symphony No. 6 by Bruckner - a citadel full of brightness, but also shady volutes, which was played with a flawless construction and persuasion force, the work of a a conductor who honours his reputation as a specialist in the Austro-German repertoire.
I left the empty half of the glass for the ending: the Chamber Symphony by George Enescu, his last creation to have an opus number, a work that is considered to be a masterpiece by most critics. It is complicated and surely sad to explain why Thielemann consiredered that it was proper to delegate an assistant, Johannes Wulff-Woesten, as a conductor of Enescu's work in Bucharest. Leaving the reasons for his decision aside, the result was only a correct and clear rendition, but the French tempo fluctuations that define Enescu's style and the feeling of polyphonic accumulations and their falling into nothingness were completely lost during the performance. Such a shame!
Ștefan Costache
Translated by Diaconu Oana and Ioana Săbău
MTTLC, the University of Bucharest