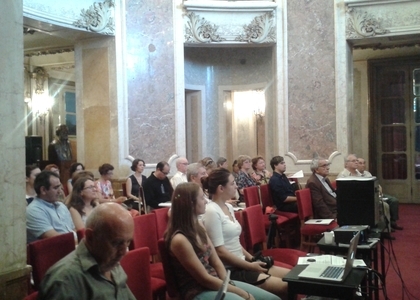 The 18th Edition of the 'George Enescu' International Musicology Symposium at the Auditorium of the Cantacuzino Palace on 3rd-4th September, 2015
Monday, 7 September 2015 , ora 10.45

In the opening of the event entitled
From
National to International Fame,
Adrian Iorgulescu, president of the Union of Composers and Musicologists of Romania, remarked the following:
'I am convinced that this edition of the Symposium will offer everyone a wide range of interesting ideas on the work of our unparalleled George Enescu. I think that organising this event is all the more necessary because, in addition to the homage, sometimes mythical, paid to George Enescu on various occasions, I have read or heard people stating blunt opinions about the life and work of this maestro of world music. These are strong topics that deserve to be discussed and explained. I hope this year's edition will be a success and will bring new ideas related to Enescu's work, but especially to his personality's rebirth in time and space.
I would also like to add the fact that our aim here both at the Union of Composers and Musicologists of Romania and obviously at this symposium, is to be humble representatives of this distinguished emblem of our national culture".
So, the first day of the symposium (Thursday, 3rd September) was dedicated to 'Cultural Syntheses'. Personalities of Romanian music, such as, Cornel Țăranu, Viorel Cosma and Grigore Constantinescu wrote a wide variety of papers on general topics regarding George Enescu's role as an interpreter (a violinist, violist, cellist and pianist), but mainly on George Enescu as a creator, highlighting the special qualities of his opuses, some of which had been unjustly forgotten, while some had been recently rediscovered.
Mihai Cosma, Alexandru Bădulescu and Cristina Lascu presented other roles of our great artist, namely, those of teacher, messenger of Romanian music and social-humanitarian symbol, the way he has been seen not only in his time, but also over the recent decades.
Marcel Spinei made another presentation on the Myth of Greece and Enescu (actually another episode dedicated to this vast theme initiated during the previous editions of the symposium); then there were Constantin Tufan Stan with an essay about George Enescu and the Banat region, Olguța Lupu with a unique idea on the possible scientific explanations about George Enescu's extraordinary memory and, last but not least, Lavinia Coman with a parallel between the complete works for piano created by George Enescu and Lipatti, interpreted especially by Romanian performers starting with the late Romanian interpreter Aurora Ienei and continued over time by Luiza Borac.
There was a book release at the end of the first day of the symposium dedicated to George Enescu, Documents from the Archives of the George Enescu National Museum. Newspaper Articles about George Enescu. Volume VIII - between 1934-1937. The editors are Florinela Anca Popa and Camelia Anca Sârbu. Lavinia Coman said the following about the importance of this book:
'The book has two main themes. The first one refers to the fact that maestro George Enescu was mentioned indirectly in the press between 1934-1935. Why was he perceived that way? Because something serious had happened in his personal life at that time. Maruca, his beloved princess, was having one of her worst periods in her life and the maestro had interrupted all his public activity to be beside her. In his turn, Yehudi Menuhim had decided to present to the whole world one of his maestro's chamber masterpieces, the Sonata No. 3 Op. 25 'dans le caractère roumain populaire' (in Romanian Folk Character) - in order to assist his dear maestro. The second one, which occupies more than half the volume, describes both the audience's and the specialists' impressions on the 1936 production of the Oedipus opera on the Parisian stage. When reading the texts, I realised that the audience was simply absorbed, stunned and shaken by this lyrical score while the chronicles went on and on with their words of praise. Thus, in their totality, the published texts revealed the audience's admiration for the great artist and altogether, I found with nostalgia that eight decades ago, a great number of newspapers was printed and culture had a privileged place. Great times!"
On the second day of the Symposium (Friday, 4th September), during the second part of the event, which wasentitled Analytical Exegesis, a series of papers were presented. Thus, Ștefan Angi, Nicolae Brânduș and Vasile Vasile presented several directions of contemporary music related to the rhetoric of melodramas, phenomenology and George Enescu's constellation. Then, Ana Szilagyi succeeded in attracting our attention with an interesting parallel between Oedipus by George Enescu and Orestia by Aurel Stroe while Florinela Popa led on a journey exploring the North American and Australian media on the Third Sonata for Piano and Violin. Two young musicologists from abroad, namely, Gary Barnett from America - who approached George Enescu's opuses for piano - and Benedict Taylor from Great Britain, who presented a special study on the construction of George Enescu's musical landscape.
Mihai Cosma, the scientific coordinator of the symposium, said the following about the two-day event:
'We enjoyed the participation of the elite specialists who presented many and extremely interesting papers that were welcomed and well-written. There were also several themes that have brought George Enescu to our day. Thus, the symposium proved wrong those who said that the event was somewhat forced, because there was nothing new to say about the great artist after so many editions. And they could not be more wrong because the presenters brought new and modern viewpoints. Thus, we can say that George Enescu is current, attractive and yet undiscovered.
There was a book release on the second day of the symposium, as well, Ștefan Niculescu: a Portrait in Airphony, edited by Olguța Lupu and Florinela Popa. That volume was edited to mark the twenty-five years since the foundation the International Week of New Music. Valentina Sandu-Dediu commented the following on the importance of this book:
"This book has a well-deserved place in the George Enescu International Festival, because we know very well the musicological contributions of maestro Ștefan Niculescu when analysing the style of George Enescu's compositions, both in his famous monograph and in his many studies dedicated to George Enescu. This is a first collective volume in Romanian and there is also another one edited by Violeta Dinescu in German. So, what did I like about this book dedicated to maestro Ștefan Niculescu? Obviously, not only the warmth and rigour of the few confessions that it contained, three in number, but also the scores analysed there, the stylistical and historiographical approaches. I think that maestro Ștefan Niculescu would have been thrilled!"
And another detail: for those interested in the lectures presented this year, they have already been translated into many foreign languages in the Proceedings of the George Enescu volume, published by the Music Publishing House.
Octavia Galescu
Translated by Elena Daniela Radu and Ioana Săbău
MTTLC, the University of Bucharest