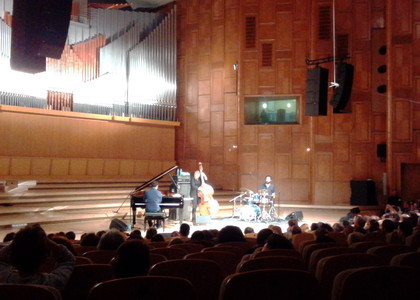 The Avishai Cohen Trio Came Back to Romania
Monday, 12 October 2015 , ora 9.52

The Avishai Cohen Trio delighted us with the two concerts that they held at the Radio Hall this weekend. I could only express my excitement towards the one on 10
th
October, in which they had promised to perform only the music on the great Israeli bass player's latest album entitled
From darkness,
but we were offered much more than that. He even interpreted a work he had written two weeks before, which was played for the third time by Avishai Cohen and his brilliantly chosen bandmates - pianist Nitai Hershkovits and drummer Daniel Dor.
It wasn't only the repertoire that impressed us. The artist described this work as a rite of passage - from darkness - towards the light, as a search for a deeper meaning beyond the boundaries of jazz and its improvisational qualities.
Remembering last year's concert and meeting Avishai Cohen confirmed and multiplied the feeling that there was a special performer on stage.
Beyond the persuading and impeccable rhetoric - meaning a total mastery of the instrument, beyond the moments of amazing spontaneity, inspiration and virtuosity, one could feel the double bass becoming the musician's alter ego and transforming itself into the sole generator of a flawless art.
The harmoniously supported double bass also took on the unpredictable role of a solo instrument and percussion, in an unprecedented display of the possibilities that this insturment can offer.
Not a single ostentatious gesture, not the slightest sign of self-sufficiency, just free-flowing and refined music that made one think about the best type of jazz, with subtle traditional nuances and many referrences to classical music.
Avishai Cohen discreetly flirted with the elements of classical music - I admired a piano duet - and an intricate double bass that was worthy of a contemporary classical concert playbill, but which kept its melodic and lyrical qualities.
The concert's rhythm grew gradually, creating the illusion of magicians playing with sounds, colours, tones and silences, but mostly with our sensitivity.
Avishai Cohen and his amazing partners offered us much more than jazz, they were happy on stage, and they transmitted the feeling to us.
The ending was incendiary. The frenzied audience triggered warm reactions from the performer. Romanians reacted sensitively to the music and were generously rewarded by the three musicians with four encores- Nature Boy, Alphonsina - performed by Avishai Cohen -, Besame Mucho and lastly, an invitation to dance… The entire hall danced happily!
Opinions of the audience members:
'The atmosphere was phenomenal. This type of concerts are usually held abroad. What happened on stage was exceptional. The rhytms these people work with are different than what we usually have the occasion to see in Romania .' (Iulian Ștefănescu)
'The revisitation of this old acquaintance of ours was simply overwhelming. We're eternally grateful... There was joy both on stage and in the audience.' (Horia Bălan - physician).
'I was expecting a very good concert because many friends had recommended this group to me. Their performance was beyond my expectations ! I'm looking forward to their next visit. They were playing so passionately that the love for their craft was transmitted to us, too.' (Despina Andrei, Communication and fundraising)
A few years ago I got into an argument with a distinguished architect. He claimed jazz was lowbrow culture. I replied that jazz was highbrow culture. After this concert, I think that if jazz is performed by gifted and giving people, it is culture, plainly. (Vlad Popa, chemist)
Marina Nedelcu
Translated by Ana Gheorghiceanu and Ioana Sãbãu
MTTLC, University of Bucharest