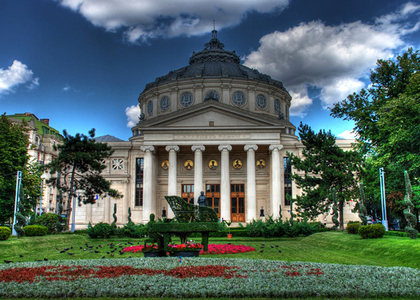 Tuesday Evening Season - 13th September, 2015
Tuesday, 13 October 2015 , ora 10.08

For pianist Dragoș Dumitriu, music is the best way in which he can express himself in front of the audience, due to its multitude of nuances and the emotion that can be rendered through it. He strongly believes that 'a single note can give numerous impressions, depending on the way in which it is played'. He demonstrated this last night, 13
th
October, 2015, at the Small Hall of the Romanian Athenaeum. The programme included works by Ludwig van Beethoven, Serghei Prokofiev, Pyotr Ilych Tchaikovsky and Franz Liszt. This recital marked the beginning of the
Tuesday Evening Season's
7
th
edition. Dragoș Dumitriu has been studying at the University of Music and Performing Arts in Vienna since 2010. Despite being a student, he already has an ascending career as a musician. He performed on many prestigious European stages, such as the Berliner Philharmonie, as well as other concert halls in Austria, Japan, Italy, Switzerland and France. Besides being a soloist, Dragoș Dumitriu also has a great activity related to chamber music. He held many chamber concerts in Italy, Austria, Switzerland, Romania and Japan with the
Duo Nobile
ensemble. He was awarded the first prize at the
'Città
di Udine' International Composition Competition for his performance with the Avante Trio and was offered a contract to record an album in Italy. I could feel how passionate Dragoș Dumitriu was while performing on stage. He spoke about his career in music and his interpretation on stage at the Small Hall of the Athenaeum in the same passionate way:
'It's safe to day that there were a lot of contrasts… From a creative, playful Beethoven whose works cover a wide range of sonorities, I moved on to Prokofiev's ironical and rough style, which was followed by Tchaikovsky's Variations. I think that Schumann and Tchaikovsky created a wonderful, flowing music which is extremely pure. I wanted to prove my virtuosity through Liszt's Transcendental Études… This is the fourth time when I participate at the Tuesday Evening Season. The greater my experience becomes, the more enjoy coming here and the more relaxedly I perform… Things are settling down.'
Dragoș Dumitriu is a passionate pianist who proved himself to be confident, self-controlled and virtuous... A musician who is drawn to the multitude of nuances and the emotion that can be rendered through the piano's keys.
Jeanine Costache
Translated by Ioana Săbău
MTTLC, the University of Bucharest