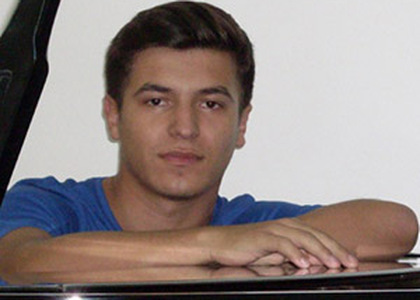 Tuesday Evening Season - 20th October, 2015
Wednesday, 21 October 2015 , ora 9.32

Pianist Abel Corban chose to perform works by the composers Brahms and Bartok at the Small Hall of the Romanian Athenaeum on 20
th
October. This was the second evening from this year's edition of Tuesday Evening Season. A large audience came to attend his concert, in which he proved once again that he has a great piano technique, high expressiveness and maturity. Abel Corban was very excited and nervous after his earned success, when he declared:
'This evening, I chose two works that are a milestone for pianists, two works that both composers created during their youth. I think that Sonata No. 3 Op. 5 in F Minor should be present in every pianist's repertoire. I chose Bartok, too, because it's his anniversary this year, and also because I will attend an international competition dedicated to this composer in Sofia. I am very excited about seeing the great audience at the Small Hall of the Romanian Athenaeum… It's very important for us because it gives us strength to keep going with this.'
Abel Corban attended Tuesday Evening Season for the third time. On this occasion, he brought along his pupil, pianist Viniciu Moroianu, who watched his performance with a great interest. This is what he declared.
'I enjoyed this evening a lot. He performed two exceptional works - Brams' sonata is a feared composition, while Bartok's rhapsody is not so popular in Bucharest. These two works share a youthful spirit. Both Brahms' Op. 5 and Bartok's Op. 1 are part of the first extremely promising works that the two musicians composed. I was very happy about Abel Corban's evolution along these years. He is in his second year of the Master's programme; his spirit, colour, expressiveness, as well as his ability to build and control such wide spaces have grown a lot… I am leaving this recital entirely happy, as what I tried to teach this very promising and talented young man was entirely worth it. I think that the level of artistry that he displayed today augmented this evening's joy.'
Pianist Abel Corban is an intelligent musician whose maturity and mastery of technique are increasing. His colouristic resources are diverse, his tone is warm and, last but not least, his enjoyment of performing is a great one. The enjoyment was passed on to the audience members, who gave long rounds of applauds and requested many encores.
Jeanine Costache
Translated by Ioana Săbău
MTTLC, the University of Bucharest