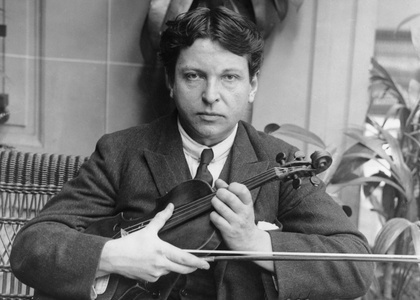 `A Homage to George Enescu` in Brussels
Wednesday, 14 October 2015 , ora 10.07

Romanian and Belgian music lovers, mostly young ones, have gathered in a big audience at the chamber concert on 13th October, 2015, which was held to pay homage to George Enescu six decades after his death. It was organised by the Romanian Cultural Institute in Brussels at the initiative of pianist Ioana Mihai; the performance that evening was held by the artist who graduated from both the 'George Enescu' University of Arts in Iași and the Royal Conservatory of Brussels alongside mezzo-soprano Mariana Iacob, who graduated from the latter institution as well, violin player Viviane Spanoghe, teacher at the same Conservatory, and piano player Jean-Claude Vanden Eynden, who teaches at the Queen Elisabeth Music Chapel private conservatory.
This concert, which was hosted by Espace Senghor Cultural Centre in Etterbeek, began with two excerpts from Enescu's Suite for Piano No.2 in D major, Op.10, a work that was awarded with the first prize at a composers' competition in Paris in 1903, as we found out from pianist Ioana Mihai`s presentation - the jury of that competition included Vincent d`Indy, Alfred Cortot and Claude Debussy.
Ioana Mihai's sensitive performance properly highlighted the rhythms and the ornaments specific to the improvisational character of traditional Romanian music, which was combined by the composer with French Impressionistic elements. The uneven Pavane and the ludic character in Bourée, which was also very well-grounded into the rigour imposed by a pre-established structure, highlighted 22-year-old Enescu as an Occidental composer with obvious Romanian traits and an unmistakeable personal style. 'We wish you a pleasant evening ! Enjoy this concert dedicated to the remembrance of our beloved George Enescu'; that was how Viviane Spanoghe ended her interpretation of the Sonata for Cello and Piano No.1 in F minor, Op.26, which was performed along with Jean-Claude Vanden Eynden in a passionate way, with great engagement and obvious affection for Enescu`s music and personality. The cellist also mentioned that this work is truly monumental, even if Enescu had not matured as a musician yet, as he was only seventeen years old when he composed it.
This first Sonata Op.26 reveals, indeed, a different side of Enescu - neither the 'classical' sonorities in his Romanian rhapsodies, nor the hardest ones to listen to from Oedipe are to be found here; this work rather reveals a young composer who is eager to discover the world of music and bring it all together in a single work, which is sometimes written for piano and cello (judging by the far more complex score written for keyboard instruments), in which other times he divides both partners' contribution, where he foresees jazz sonorities and sketches melodies that are lyrical, but powerful at the same time.
During the concert's break I visited Enescu`s documentary photography exhibition hosted at Espace Senghor at the proposal of the 'George Enescu' National Museum in Bucharest. The exhibition included photographs of concert posters that were either contemporary or from the 20th century (including the one that announced the Belgian premiere of Oedipe in 1956), of a part of the composer`s students, of book covers, scores and albums.
After that we listened to mezzo-soprano Mariana Iacob performing some of Enescu`s lieder supported by many different texts: poems written in old French by Clement Marot, other ones signed by Carmen Sylva or folk verses, as the protagonist herself said. She interpreted them with a well-led voice that was very appropriate to the delicate vocal chamber repertoire - intimate and expressive, in a successful musical and artistic duet along with pianist Ioana Mihai. Enescu`s lieder are highly diverse, as each one of them recreates a small complete universe; they seem to represent a wonderful symbiotic relationship between words and music, as well as the extraordinary connection between the two.
In the end, cellist Viviane Spanoghe and pianist Jean-Claude Vanden Eynden came back on stage to perform Sonata for Cello and Piano No.2 in D Major, Op.26 by George Enescu - 'a magnificent work, yet hard to listen to', as the interpret had characterised it. I was acquainted with a very confident composer that navigates a less accessible space of sound, but which he treads with precision, with the calmness of those who have access to restricted areas. We don't have to jump to the conclusion that this music is extremely difficult, as the lyrism that is present within this sonata at all times, the powerful emotion and the musical features that it contains makes it address to the listener's emotional side directly. The Homage to George Enescu concert had been opened by the speech of the director of the Romanian Cultural Institute in Brussels, Robert Adam, who attended this event along with his entire team; congratulations were addressed to the four musicians for their bold choice of performing a very rare repertoire, which was rightfully rewarded by the applauds of the thankful audience for the Enescian evening they offered.
Maria Monica Bojin
Translated by Ilinca Elena Dinulescu and Ioana Săbău
MTTLC, the University of Bucharest