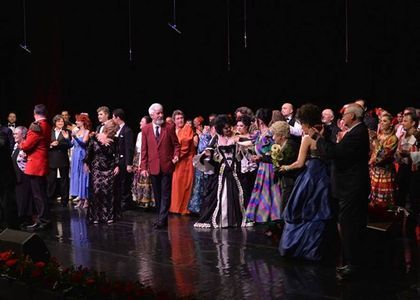 'Ion Dacian' Operetta and Music - Hall Theatre-65
Friday, 20 November 2015 , ora 13.29

Operetta Theatre was opened 65 years ago, on 7
th
November 1950 for the first time with the premiere of
The Wind of Liberty
by Isaak Dunayevsky. Operetta Theatre had a tumultous history-it was moved from a place to another and the initial building was demolished because a fire started there- until the year 2015, when the premiere from 24
th
January of
The Phantom of the Opera
by Andrew Lloyd Weber was held, the inauguration of a new theatre was made in the same location, Splaiul Dâmboviței more common known as `Ion Dacian` Operetta and Music-Hall Theatre.
After the series of events that took place in November with the occasion of 65 years since the theatre was inaugurated, the temporary director, George Călin had spoken a few words:
"We have an opportunity at every anniversary and the chance to reborn because this is all about…we are in a new building which is an exceptional thing despite the fact that since it was demolished, the operetta was accommodated all the time. This November is entirely dedicated to this anniversary throught galas that bring forward all activities and departments of this theatre: from ballet, choir, orchestra to all the soloists of this institution.``
I assisted Saturday, 7th November, at a three hours marathon where three generations of performers some as part of the audience others as performers-current artists of the theatre and others that were awarded are: conductor Mircea Luculescu, sopranos Cleopatra Melidoneanu, Constanța Câmpeanu, Vali Niculescu and Valeria Rădulescu, Elena Dacian - the daughter of the great tenor Ion Dacian and musicologist Viorel Cosma, who was present in 1950 at the inauguration of the first Romanian Operetta Theatre.
"The operetta`s development was rather sinous. At the beginning of the 19th century it started to lose itself a bit, but in the first decades of the 20th century, when Nae Leonard came along, the operetta started to shine again. Unfortunately, Leonard lived a short life and died after two decades of marvelous career.
Soon after that he was replaced with a young tenor from Cluj-Ionel Dacian. I`ve known them all. I have participated at its opening in 1950 and I started my chronicle at it`s inauguration- said Viorel Cosma, who is a chronicler, musicologist and a performer of the Lysistrata libretto by Gherase Dendrino, an operetta that reached 250 representations on the stage of `Ion Dacian` Theatre.
A three hour performance moderated by Ernest Fazekas, in which I assisted at emotional moments of remembering the main premieres that took place in time and had made the repertoire of the operetta pigmented with artistic moments held by the artists conducted by Lucian Vladescu.
I was expecting that this travel thru operetta`s history-was accompanied by a beautiful anniversary catalogue offered to the audience-to be sustained artistically by much more representative moments of the selected titles (some of them were renewed in the last years) and to reach at the last seasons, when a series of music-halls like: Rebecca, Romeo and Juliet, Paris, mon amour and The Phantom of the Opera are in present the stars of "Ion Dacian` Operetta and Musical Theatre…Maybe in another gala…
Jeanine Costache
Translated by Ilinca Elena Dinulescu
MTTLC, the University of Bucharest