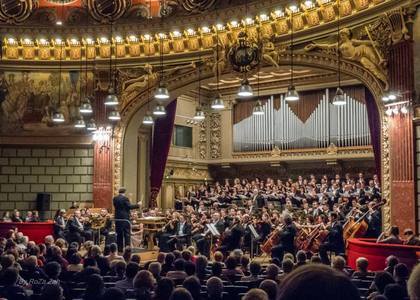 A New Opus by Dinu Lipatti Performed at the Romanian Athenaeum Yesterday Evening
Friday, 20 November 2015 , ora 10.13

The Romanian Athenaeum hosted last evening, 19
th
November, 2015, a new symphonic concert held within the "George Enescu" Philharmonic season. The evening's programme was marked by Tchaikovsky's music, according to some, but the really important work performed by the musicians of the orchestra and conductor Horia Andreescu for the first time, was Three
Symphonic Dances
for Piano and
Orchestra
by Dinu Lipatti, with pianist Michael Ungureanu as soloist.
As it seemed to bea more than interesting concert, I was present in the concert hall especially because I wanted to listen to this newly discovered creation composed by the Romanian musician, whose 65th anniversary will be marked on 2nd December.
The firstaspect to be highlighted is that, despite its title, this composition is neither a suite of dances, nor even an instrumental concert piece, but rather a kind of rhapsody for piano and orchestra, with three distinctive movements, especially in reference to their tempo.
Equally important to say is that, despite our expectations, the interposing of the piano soloist was quite discrete, sporadic and quite often blurred by the generous interpretation of the orchestra that, at least, last evening frequently covered the piano, the dosage often failing; but the failing dynamic is no longer new to us, as it seems to have become a standard problem not only of this ensemble, but of the Romanian musical space.
In the musical language used by Lipatti in this work performed for the first time, the composer, as it is obvious from its title, contained mostly folkloric sounds and modal systems, in an attempt to stylize this language through a process of creating polyphony similarly to experimental counterpoint, thus giving the score a degree of complexity that often surprised the performers, as well.
Last but not least, the orchestration is rich, certainly a plus for this work that has a density of extremely deep ideas that the public who will come atthe Athenaeum today will be able to perceive by listening to a more successful version than yesterday.
As I said at the beginning, the evening's programme also included two important works by Piotr Ilyich Tchaikovsky, one of which was the Romeo and Juliet - Fantasy Overture, that surprised the listeners due to the extremely alert tempo chosen by conductor Horia Andreescu, thus creating a state of heightened tension, which is extremely beneficial for the work in question.
After the intermission, Tchaikovsky again: Symphony no. 5 in E minor Op.64, a much awaited work by the Bucharest audience which was fully satisfied with the interpretation of the "George Enescu" Philharmonic Orchestra, although my overall impression was that I listened to a composition by Tchaikovsky extracted from its romantic space and placed in an age invigorated, not by the efervescence of the romantic soul, but especially characteristic to this leading composer of nineteenth century Russian and European music.
Altogether, a concert which marked the interpretation of an opus by Dinu Lipatti for the first time, an undoubtedly important achievement, intertwined in a concert programme between two masterpieces by Piotr Ilyich Tchaikovsky, is a good reason for you to attend today's concert, on this second evening of symphonic music at the Romanian Athenaeum.




Alexandru Mija
Translated by Elena Daniela Radu
MTTLC, the University of Bucharest