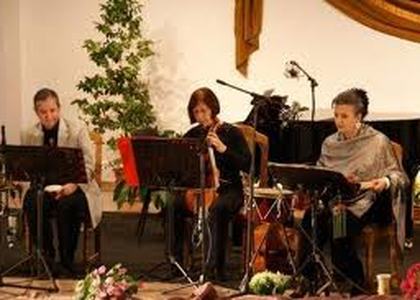 Early Music and Soulful Carols
Wednesday, 9 December 2015 , ora 10.40

For years, during the winter, Early Music Studio has the habit of inviting the Romanian audience to listen to good ancient music, and also to traditional carols, which bring joy and peace to the soul. Following the tradition, the ensemble has offered a high refinement concert, in the Athenaeum. The concert was probably a little different this time, since they have alternated the vocal pages with the instrumental ones, taken from the 16
th
-17
th
century opuses. Therefore, the audience could listen to a Renaissance Suite, realized by joining together delicate miniatures in which viola da gamba, harpsichord and the voice of the soprano (also making use of the lute) have created simple melodies which have won over the audience. They were followed by the sensitive, religious nuanced and introspection-filled works of Sartorius, however one could feel the songs' calm and serenity. After them followed Handel's and Vivaldi's Sonatas or Three of Bach's Preludes, all performed with passion and professionalism by Anca Iarosevici, by playing on a viola da gamba, in the company of Verona Maier, who has offered a most beautiful solo on the harpsichord. The written creations have an intricate and elaborated structure, difficult to interpret on such special antique instruments.
A part of the songs have been aided by the discreet percussion, which was later on found in the Romanian Carol Suite, charming the audience with the chimes that have accompanied the soprano's performance. Georgeta Stoleriu got off the stage and went to the audience to give them sweets from a basket. Her gesture completed the pure and good-will atmosphere, while she continued to sing elegantly the always loved song Wake up Christians, followed by Oh, How Wondrous News and At Țarigrad Gate, so that after the viola da gamba's piece, the tenor with the chimes's support could add the drum and tambourine, to accompany the crystalline voice which sang Lerui, ler…
A special evening in which Early European music was naturally joined with the Romanian ancient carols, in a programme especially devised as for a musical encounter with one's beloved, near the fireplace, talking with ease, delicacy and faith about things which bring us peace and serenity - a state which was to be found both on stage and in the hall, a natural state which can be found round Christmas time, when gifts can also be musical, but primarily soulful.
Anca Florea
Translated by Irina Mihai
The University of Bucharest, MTTLC