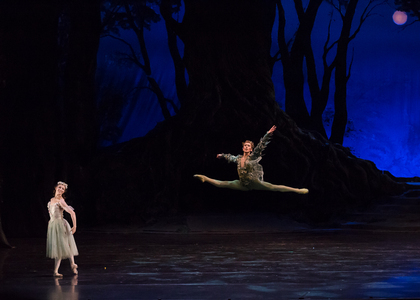 The Impressions of a Spectator in Love with the Art of Dance
Monday, 14 December 2015 , ora 10.35

In an interview taken by Dan Marinescu for
Adevărul
on December 6
th
, with the title
Alina Cojocaru - Ballerina, Fairest of the Fairies on the Opera Stage: "Under the Limelight There Are No Limits",
when asked whether she had noticed any differences between Romanian and foreign ballet dancers' methods of preparation before a performance, the famous ballerina stated:
I don't notice any differences, because I have worked very often in such conditions. I anyone feels differently, it is probably a matter of mindset. The only difference, I find, is that when I say something in Romanian, someone will often answer in English, or the other way around. I sometimes don't even realize it. We have an international repertoire, and we have foreign professors, choreographers and scenographers and we mostly speak English. I feel here as if I were at the Royall Ballet.
After having attended on Saturday, December 5
th
, the latest premiere of the Bucharest National Opera House Ballet Company, which consisted of DSCH and
The Dream,
I was able to understand more clearly what she meant by this statement:
Here, I feel as if I were at the Royall Ballet.
The Romanian company is in the fullest sense an international ballet company, as it is the case with most of the world's great opera houses. In time, Japanese, English, Polish, Italian dancers, and also dancers of many other nationalities have elegantly glided in the limelight of the Romanian stage. In the first part of the evening, out of the 19 performers of the
DSCH
ballet, I counted only three Romanian names. In
The Dream - A Midsummer Night's Dream -
out of the 17 dancers, 4 were Romanian - unfortunately, in this sense, Alina Cojocaru cannot be included in this category. Ever since Johan Kobborg, the internationally acclaimed Danish choreographer and dancer became the Head of the Ballet Company, everything has changed on the first Romanian opera stage, from team configuration, dancing styles, body conformation, to repertoire.
The talent of this new team is clearly displayed in this premiere I am commenting upon with great admiration. Modern and classical dancing are brought together in perfect harmony. Set to the music of Dmitri Shostakovich, Piano Concerto No. 2, (1957), brilliantly performed by soloist Ștefan Doniga and BNOH orchestra, conducted by Cristian Sandu in 2008, the DSCH choreography was composed by Russian dancer and choreographer, Alexei Ratmansky, for the New York City Ballet. At the time, the resounding success of the premiere was the topic of discussion for many reviewers of important publications: … these joyful and fluid dances are perfectly coherent and they blend with the music so harmoniously, almost resembling the trill of a bird in flight. (New York Post 2, June, 2nd 2008); … 20 minutes … enough to attest to the resilience of the dancers. (The New York Sun June, 2nd 2008);… their dancing is poetry, delicate and pure... (The New York Times, May, 31st 2008). My own impressions as an avid lover of this beautiful art can be summed up very well by these words. I was deeply impressed by each movement, and overwhelmed by the energy of the Russian composer's music, as well as the sheer force of their dancing - which still effortlessly managed to be delicate, tender, even humorous.
The dancers are thoroughly trained in classical, as well as contemporary ballet. Although a few of them were designated as soloists, I see this success as a group effort, every dancer doing their utmost for this performance. Everything flowed evenly, in that seemingly effortless manner - as exquisite as it is deceiving - which is only attainable for true professionals. This requires tremendous effort. And yet, the smiles on their faces were candid, convincing, and authentic! - the poetry and the humour are elegantly combined, ultimately creating the aesthetic achievement of a coherent whole. It gives me great pleasure to watch this DSCH of the BNOH Ballet Company time and again.
The second of the evening's performances was The Dream - staged in collaboration with the Royal Opera House Covent Garden, London, in the fashion of the 1964 version, created by the legendary English dancer and choreographer considered to be the founder of English ballet, Sir Frederick Ashton, based on William Shakespeare's play, A Midsummer Night's Dream, arrangement by John Lanchbery to the score composed by Felix Mendelssohn Bartholdy. This piece takes us back in that distinctive atmosphere of classical and romantic ballet, with luxuriously painted sets and mysterious atmosphere, where the human world is merged with that of fairies and elves. The story is famous, and the names of characters like Oberon, Titania, or Puck are familiar to anyone. Dancing is but the expression in motion of this literary work which is already exceedingly visual in nature.
Sir Frederick Ashton's choreography demands classical accuracy, tremendous acting abilities and genuine humour. The artist also provides original solutions for achieving the objectives he has set out - for example the donkey Bottom is wearing pointe shoes, which make the character seem taller, almost as if he had hooves, but this poses quite a challenge for the dancer, seeing as pointe shoes are worn almost exclusively by ballerinas. Every solo performance was impeccable, both in point of technique, as well as expressiveness. I believe the group scenes would require more work, particularly the coordination of movement, which is still rather lacking synchronization.
Without doubt, the most beautiful moment of the performance was the seven-minute long duet at the end, which Alina Cojocaru (Titania) performed together with Polish dancer Dawid Trzensimiech, one of the too few moments when we had the opportunity to enjoy the art of Alina Cojocaru.
DSCH
Choreography: Alexei Ratmansky
Costumes: Holly Hynes
Music: Concerto No. 2 in F major Op. 102 by Dmitri Shostakovich
Choreographer'Assistant and Répétiteur: Laura Contardi
Lighting design: Marc Stanley
Lighting design assistant: Perry Silvey
The cast of Decembre, 5th:
One couple: Sena Hidaka and Henry Dowden
One trio: Bianca Fota, Shuhei Yoshida, Takahiro Tamagawa
Three couples: Akane Ichii, Mihaela Soare, Bianca Stoicheciu, Liam Morris, Egoitz Segura, Barnaby Bishop
Four couples: Nastazia Philippou, Raquel Gil Bergstrom, Fiona Cameron Martin, Amy Lee Bale, Răzvan Cacoveanu, Alessandro Audisio, George Murray Nightingale, Miquel Duran Torrents
The Dream
Choreography and libretto: Sir Frederick Ashton, based on William Shakesperare's play "A Midsummer Night's Dream"
Music: "A Midsummer Night's Dream" by Felix Mendelssohn (music arrangement and orchestration by John Lanchbery)
Set design: David Walker
Lighting design original: John B. Read
Répétiteur and Dance Notation: Patricia Tierney
Lighting design adaptation: Ionuț Gabriel Pruteanu

The cast of Decembre, 5th:
Titania:Alina Cojocaru
Oberon:Dawid Trzensimiech
Puck:Shuhei Yoshida
Bottom:Alistair Beattie
Rustics:Alessandro Audisio, Răzvan Cacoveanu, Mircea Ioniță, Shohya Oheda, Caspar Stadler
The quarreling couple:
Helena:Andra Ionete
Demetrius:Liam Morris
The lovers:
Hermia: Bianca Stoicheciu
Lysander: Henry Dowden
Four fairies - solo:
Peaseblossom: Raquel Bergstrom
Cobweb: Akane Ichii
Moth: Francesca Velicu
Mustardseed: Nastazia Philippou
With the participation of the "Symbol" Youth and Children's Choir, director: Jean Lupu, conductor: Luminița Guțanu Stoian
"The Dream" is produced in association with the Royal Opera House Covent Garden, London.
Cristina Sârbu
Translated by Elena Gherca
MTTLC, The University of Bucharest