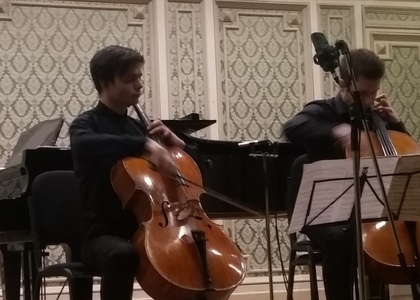 The Tuesday Night Season - 19th January 2016
Wednesday, 20 January 2016 , ora 13.10

Adrian Precup:
Three youngsters, who have proven that to go on a carrer path of professional achievement one must firstly do a lot of work with dedication in order to make the most of something, like the case of this night's repertoire.
Despite the frost which started to engulf Bucharest, Adrian Precup, Radu Croitoru and Iulian Ochescu are the names of the three musicians who have filled the Small Hall of the Romanian Athenaeum. Apparently, the frost did not forgive the two cellists Adrian Precup and Radu Croitoru, both of them having had problems with the strings of their instruments, thus the presence of some intonation issues. But the passion with which they make their music has surpassed the limits of the stage in such a way that the much loved cellist Marin Cazacu's words have been entirely legitimate:
Adrian Precup: Grieg's Sonata for Cello and Piano is especially difficult for the piano player. Usually, it is a concert for the piano with the cello's accompaniament. Piano player Iulian Ochescu has a great perspective, so the cellist was advantaged by the presence of such a valuable piano player in this recital. Adrian Precup is a cellist which presents the works he interprets with sobriety, but at the same time with care and a lot of emotional charge. Radu Croitoru is an impressionable, an emotional person from the beginning to the end. He is a creator of colours, of sounds as he has proved in the interpretation of Dmitri Shostakovich's Sonata, a sonata which is difficult for the cellist, but also for the piano player. Even though there were some unfulfilled intonations, in both cases, the love to make music together and to present such a great repertoire to the audience have been remarked and at the same time it meant a lot for them.
The pleasure to sing seems to be the phrase which has united the cellists Adrian Precup and Radu Croitoru and piano player Iulian Ochescu. They are three musicians who are defined by their talent, elegance and seriousness, the evidence is the acclamations of the audience which has gladly participated to another Tuesday night of the season from the Small Hall of the Romanian Athenaeum.
Jeanine Costache
Translated by Irina Mihai
MTTLC, University of Bucharest