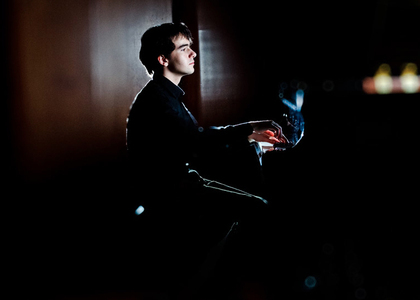 Ingmar Lazar at the Athenaeum
Tuesday, 26 January 2016 , ora 9.13

An interesting recital held by the young French pianist Ingmar Lazar was performed on the stage of the Romanian Athenaeum, on Sunday, 24
th
of January 2016. The event was occasioned by the celebration of 80 years of existence of the French Institute in Bucharest. In the elegant environment of the edifice from Bucharest gathered an audience not very numerous, but eager for a quasi- romantic musical journey. And this is what he obtained. The evening begun with the monumental Piano Sonata in A major D. 959 by Franz Schubert, an imposing opus and put on a temporal stretch really extensive, thus the members of the audience, due to their enchantment, eagerly applauded after each movement that they were doing. It was indeed an extraordinary work for a pianist in order to bring to life all the musical intentions that seemed also to excerpt from his exhausted being the last drop of energy.
After the pause we listened to shorter and incisive opus. The first play was Sonata in C minor KV 457 by Wolfgang Amadeus Mozart. This is one of the two sonatas that the composer placed them in a minor tonality and despite the fact that it seems that he wrote it for a didactic usage, it represents a work filled with an extraordinary dramatic nature that will lately be used by Beethoven in his 'Patetica' Sonata. Ingmar Lazar showed a beautiful clarity of style and a very rational approach to the whole process of construction of the repertory. Very often, due to his attitude on the stage, you could be able to forget that he is just a young musician. He was born in 1993 and it must be mentioned that his parents are Romanians. Moreover, he is Marie-Mayence Gibani`s grandson, the one who was Constantin Brâncuși`s last pupil. He started to study piano at 5 years old and a year later he managed to sing in front of an audience at the famous Gaveau Hall from Paris. Therefore, his concert experience is quite large.
Speaking again about the concert from the Sunday evening, the last three opus that the musician performed were the Ballad op. 52 no. 4 in F minor by Chopin, Pièce sur le nom de Fauré by Enescu and Mephisto Waltz No . 1 by Franz Liszt. We saw them all as a great opus, with states and nuances differences. This 'romantic' end was a successful conclusion for a recital who was also a successful one.
Radu Mihalache
Translated by Oana Diaconu
MTTLC, the University of Bucharest, 2nd Year