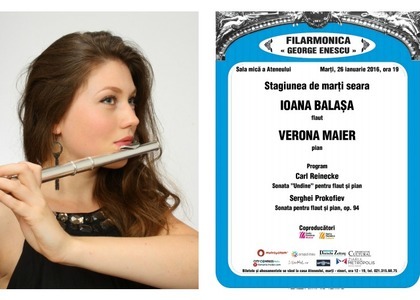 The Theatrical Season of Tuesday evening - 26th of January, 2016
Wednesday, 27 January 2016 , ora 13.17

There was a recital of flute in the series of concerts in the theatrical season of Tuesday evening. On 26
th
of January, the flutist Ioana Balasa together with the pianist Verona Maier evolved in the Small Hall of the Romanian Athenaeum. MA student of the University of Music in Bucharest, Ioana Balasa benefited by an Erasmus scholarship in the third year of studies being admitted at the Conservatoire in Strasbourg under the guidance of the flutist Mario Caroli. A musician with a rich activity in concerts, Ioana Balasa has been a member of
George Enescu
Philharmonic Orchestra from 2014 and she collaborates in different artistic projects alongside other important orchestras like:
Virtuozii
in Bucharest conducted by Horia Andreescu, the Romanian Youth Orchestra conducted by Cristian Mandeal, or in the theatrical seasons of the Royal Chamber. Ioana Balasa showed confidence and exuberance in her first appearance in the Theatrical Season of Tuesday evening. The enthusiasm of the youthfulness has also been reflected in her first statements:

Ioana Balasa: Taineke is a composer less known, a romantic one, and Prokofiev is a modernist, neoclassic and cosmopolitan in expression. He imposes enough difficulties in technique and performance, but one must be truly enthusiastic that a composer like Prokofiev has been inclined towards flute. He wrote a sonata.
Ioana Balasa evolved together with the pianist Verona Maier. The one who guides her steps at the master of chamber music that the young flutist fallows has paid attention to her evolution, stating:

Verona Maier: There are two reference's opuses in the literature for flute and piano. These are two standard works. There is no flutist who can skip these two works. These two are landmarks of the creation in which the flute "suffers" such a ruthless treatment. It is about contraposition of an instrument that produces, as you could see what it can produce. I mean the piano and the writing of the two sonatas suppose a huge quantity of technical difficulties, especially an opposition out of the common patterns. This was also an important performance for her.
Jeanine Costache
Translated by Negoiță Roxana-Beatrice
MTTLC, the University of Bucharest