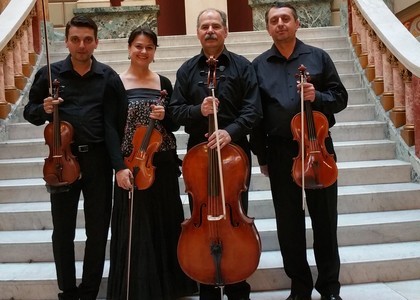 The show from Tuesday evening- the 9th of February 2016
Wednesday, 10 February 2016 , ora 10.15

For the second time in our show from every Tuesday, there are with us the violinists Viorel and Monica Buștean, the violist Luiza Iorga and the cellist Dan Joițoiu- the members of the Virtuoso quartet. The programme which includes the Quartet op. 64, no. 5 in D Major by Joseph Haydn and the sextet "Memory of Florence" by Pyotr Ilyich Tchaikovsky drew many people to the 9h of February show in the small auditorium of the Romanian Atheneum. Since 2012, when it was founded, the Virtuoso Quartet wanted to approach a repertoire as varied as possibl, in order to reveal to the public the beauty of each musical era. The four instrumentalists succeeded last night to enrich them even more, in a room with an ideal acoustic for the chamber music, played with such passion, sensibility and a carefully stylized. They played the Sextet "Memory of Florence" accompanied by the cellinst Eduard Zecheru and the violist Laura Zecheru. I liked the engagement of the six musicians, especially in the second part of the programme and the emotion which they managed to give to those who were in the room, and thanks to the voice of the violonist
Monica Buștean
at the end of the evening, an even greater emotion:
We wanted to conquer new territories. We liked this sextet so much and we have two bestfriends who like music as well, that I said it would be best to do something together, something by Tchaikovsky. The quartet was a little extra in this programme.
The evolution of these four musicians who form the Virtuoso Quartet and of their guests -the cellist Eduard Zecheru and the violist Laura Zecheru- was appreciated by the audience who gave them a prolonged round of applause, an audience who they found themselves in:
'I'm glad that tonight I've been a part of the show of these six instrumentalists. They pulled a great Tchaikovsky tonight which I was impressed most.'
'It sounded really well. You could tell they are true professionals.'
Venera Teodorescu: I had the honour to be present in the room where the Virtuoso Quartet had their first appearance. Therefore, I had the chance to see their evolution, to observe the extraordinary progress this group has made; they are now a mature group with a perfectly bound sonority as a whole. Furthermore, the rare programme which I've listened in our auditorium, the Tchaikovsky sextet, had tension, rafinement and a perfect timing. It was a joy, an enchantment.
Jeanine Costache
Translated by Matei Denisa
MTTLC, University of Bucharest