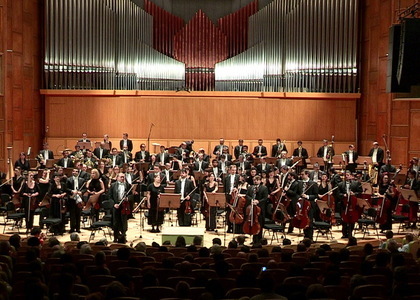 National Radio Orchestra's Exceptional Concert under the Baguette of Conductor Nicolae Moldoveanu
Monday, 29 February 2016 , ora 9.36

The two musical visions of the dramatic poem
Manfred
, written by Lord Byron and one of the most beloved concerts for cello, both have been the works which have attracted a huge crowd at the Radio Hall.
For the second consecutive week, the National Radio Orchestra was conducted by Nicolae Moldoveanu, a conductor who throughout his career has been at the music stand of the Royal Liverpool Philharmonic, Netherlands Radio Symphony Orchestra or Stockholm Chamber Orchestra. On the 26th February 2016, the programme started with Robert Schumann's Manfred Overture. It was followed by another work of Schumann, the Cello Concerto in A Minor, with Răzvan Suma as soloist.
"I have to say that for me this concert means a lot. I learned it as Marin Cazacu's pupil and since then, the foundation is still there. And no matter how much one tries to stilistically bring forth a certain form of expression, it is not possible. Besides that, I don't even want to do so, because I like it the way it is." - Răzvan Suma
Marin Cazacu, also present in the hall, has told us about the version offered by the soloist of the Radio Orchestra and Choir:
"Robert Schumann's Concerto for Cello and Orchestra is a work of art, which I adore, because we, the cellists consider it to be the number one concert for cello and orchestra. It has been a real pleasure for me to assist to an exceptional interpretation performed by my friend and former student, Răzvan Suma, for a work which, as I have already stated, we, the cellists believe it to be number one. And Răzvan Suma - I was impressed because I know what it going on besides his work as a musician, since his administrative work also occupies a part of his time for studying the instrument - impressed me with his level, which he has asserted this night, a level of exception. A beautiful performance, attractive for any type of audience."
And again, Manfred, but this time in Piotr Ilici Tcheaikovski's vision. The symphony which bears the name of Byron's hero has resounded in the Mihail Jora Studio, and made complete a new successful night of the great symphonic ensemble of the Radio.
"I was very impressed by the unity, and the passion. It was faultless! It was an absolutely remarkable concert!"
"I really liked the atmosphere and the music. There were unique moments. We like it, we love to come, we admire them, we applaud them, he ask them to come again and we pray so that all of us are healthy to be able to come and listen to other concerts."
The piano player Viniciu Moroianu has told us a few words about this concert:
"It was an event, a really interesting programme, an interesting idea to unify two romantic masterpieces, very different as amplitude, both connected by the famous hero of Byron - Manfred - and combined with the cello concert of the same Schumann, his work which has started the concert. An extraordinarily beautiful programme. All works were performed with an absolutely intoxicating ardent and zest. We have all met again with a Romanian conductor who has a beautiful career all over the world, a conductor who has studied the British school, filled with passion and temperament, a conductor who also has the knowledge of working with an orchestra, of distributing, of contrasting the characters, of phrasing…I was overjoyed the entire night."
Lucian Haralambie
Translated by Irina Mihai
MTTLC, University of Bucharest