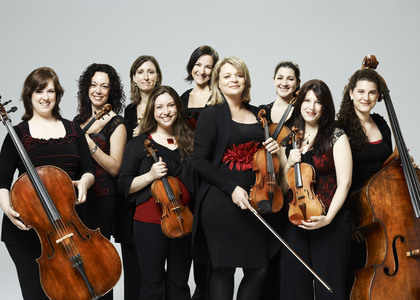 Angèle Dubeau and the string ensemble 'La Pietà' on the stage of the Romanian Athenaeum
Monday, 14 March 2016 , ora 11.56

On Sunday, March 13
th
2016, the Canadian violinist Angèle Dubeau returned on the stage of the Romanian Athenaeum after a 32 year absence; this time she was accompanied by the all-female string ensemble that she created in 1997, "La Pietà". The concert belonged to the minimalist style and brought in front of the audience works of artists who have a powerful echo in the contemporary classical music sphere.
We talk about the Italian composer Ludovico Einaudi, whose works were heard for the first time on a Romanian scene; also Philip Glass, Arvo Part, Michael Nyman, Marjan Mozetich and Maxime Goulet. Moreover, apart from the works of these composers, Angèle Dubeau surprised her audience, giving two encores that were enthusiastically received - the well-known American song "What a wonderful world" and George Enescu's Romanian Rhapsody No.1.
Angele Dubeau briefly talked about the experience of living in Romania, more than 30 years ago when she decided to study in Bucharest, under the guidance of the late violinist and teacher Ștefan Gheorghiu. Visibly nervous, the violinist thankfully addressed the wife of Ștefan Gheorghiu, who was present at the concert:
"I would like to greet Mrs. Gheorghiu who is present here. She often asked me why I have chosen to come to Romania. The answer is very simple. I came here because of a Romanian, a man, because of Mr. Ștefan Gheorghiu. The fact that I am a violinist today is due to your husband and the things I have learned from him. I am equally thankful to you. You are a very elegant and generous woman. I felt as if I was part of your family and for that I am deeply grateful."
Another pleasant surprise for the audience of Bucharest was the presence on the stage of a Romanian artist - the violinist Andra Giugariu. She told us, regarding "La Pieta" and the feeling of playing on a stage in her own country:
"It is an ensemble that I like. Of course we have a conductor, that is Angèle, but she is both conducting and playing. We must have chemistry, complicity, to listen to each other 200%, to have eye contact, but also "ear contact" in order to understand each other well. We must do that, because without a conductor, there is no other way. It was very emotional and I came with a good heart. I felt just like home, the same way I felt in the beginning, when I left."
Angèle Dubeau played on the "Des Rosiers" Stradivarius violin from 1733 and this violin could also have been listened this morning during a humanitarian concert held at an orphanage in Bucharest. From Norela Costea, the CEO of "The Musical Society" , we found out more about the initiative of the two concerts:
"Angèle Dubeau is on a tour in several countries and initially, she wasn't supposed to come to Romania. But because this is "the Month of the Francophonie", and because they were nearby, the Embassy of Canada contacted us and we began this project. There were in fact two concerts organized on this occasion."
Ana Diaconu
Translated by Lucia Mustață
MTTLC, University of Bucharest