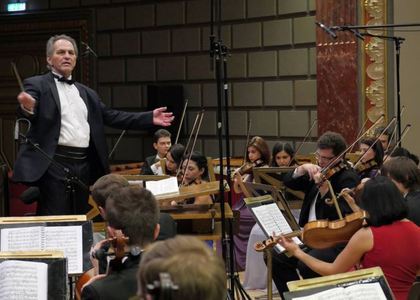 Magic spring at the Romanian Athenaeum Romanian Youth Orchestra
Sunday, 13 March 2016 , ora 12.24

The 'Three Romanian Dances' by Theodor Rogalski was meant to prepare the audience members present in the concert hall, which proved to not be spacious enough, for the Variations on a Rococo Theme by Pyotr Ilyich Tchaikovsky, and
Andrei Ioniță
's interpretation was met with thundering applause. Here is what the young cellist had to say after the concert:
`If I recall correctly, the first time I played with the orchestra, as a soloist, was also in the hall of the Romanian Athenaeum, precisely with the Rococo Variations. I was around the age of 14 at the time and… yes, it was all very nostalgic, but at the same time I wanted to express my joy of playing to the Romanian public and to share something of my energy and ultimately the energy of the music, in Tchaikovsky's story. It was a tremendous pleasure to collaborate with a young ensemble. We were able to communicate better, as we were on the same wavelength.`

Ani Marie Paladi, Andrei's professor also attended the concert:
`I was very anxious watching him, not because of a lack of confidence in Andrei, but because I am glad that Andrei came back to the Romanian Athenaeum to perform for Romanians, for us.`
The second part of the program was dedicated exclusively to the symphonic ensemble. Prelude and Isolde's Death from the opera `Tristan and Isolde` composed by Richard Wagner and Suite from `Der Rosenkavalier` by Richard Strauss were the scores that filled the program of a new evening of the `Magical Spring`, brought to the public by the Romanian Youth Orchestra.
Among the audience members at the Romanian Athenaeum were famous personalities, who gave us their thoughts on this concert. One of them is Victor Opaschi, the State Secretary at the Secretary of Cults:
`It was an absolutely wonderful evening. Of course, the great surprise was not the orchestra, which we, music lovers, have known all too well for the last seven years or so - at least I myself have not missed any of their concerts, I think. The big surprise was the young cellist Andrei Ioniță, who is absolutely fantastic. I think that in the last half century I've heard nearly all of the world's greatest cellist performing the Rococo Concert - Tchaikovsky. I was deeply touched by Andrei Ioniță's performance, so much so that I can hardly re-collect. I wish him only the best.`

Andrei Dimitriu, the general director of the `George Enescu` Philharmonic Orchestra:
The enthusiasm of young people is an absolute delight for the public. The musical pieces - wisely chosen, for the audience of this evening. Now and again such a fortifying artistic endeavor is truly needed. That is what the Youth Orchestra together with maestro Mandeal have achieved today, as I see it.`

Diego Brasioli, Ambassador of Italy to Bucharest:
`It was a very good concert, performed by what I consider to be one of the best orchestras in Romania, and also the world. I am glad to see and hear enthusiastic young musicians playing on such high level on this stage. Andrei Ioniță is already a renowned name, even though he is still very young. I've already had the pleasure of listening to him perform several times. The best part of the evening was his performance of Tchaikovsky's piece.`
And conductor Florin Totan:
`I came first and foremost for the orchestra, because for me any concert of the Romanian Youth Orchestra is a festive occasion. This orchestra makes me truly happy.`


Lucian Haralambie
Translated by Elena Gherca
MTTLC, the University of Bucharest