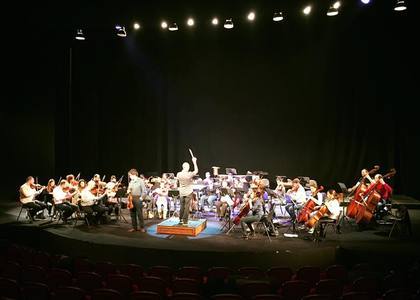 Mozart - the genius at the Bucharest National Theater
Monday, 28 March 2016 , ora 13.28

Yesterday, on 21
st
of March 2016, the fourth concert of
Masterpieces of the Great Composers
series took place at the Great Hall of
I . L.Caragiale,
the Bucharest National Theatre. The series is part of the project named
Hello Culture!
which was initiated and promoted by the Bucharest Symphonic Orchestra.
After other three musical meetings that had had Ludwig van Beethoven, Antonin Dvoűák and Johannes Brahms on the posters, the Bucharest Symphonic Orchestra proposed an exclusive program with Mozart's music for the fourth event. Therefore, the Overture of the Don Giovanni's opera, the Piano and Orchestra Concert, No. 5 and the well-known Jupiter, the Symphony No. 41 were carried out at the Great Hall of National Theatre in an ambiance that conquered the lovers of classical music from Bucharest.
Because of medical reasons, the violinist Corina Belcea wasn't able to be present at the concert, the soloist role being given to Gabriel Croitoru:
"For me, it is the second collaboration with the Bucharest Symphonic Orchestra. I think I was as a soloist in the presence of the same conductor, Mr. Benoit Fromanger at the first show of Bucharest Symphonic Orchestra on the metropolis's stages. I was very glad, even if I was a last-minute-replacement. I said I liked the partnership with them and I agreed to save this concert."
It was Benoit Fromanger who was situated at the conductor's desk. Starting with the year 2010, he became the main conductor of the Bucharest Symphonic Orchestra:
"It is very interesting to have an afternoon concert with works of an only composer. In this manner, we can catch much many parts of this composer's soul and creation. It is interesting to work especially with the Bucharest Symphonic Orchestra. They are excellent musicians and, indeed, I was able to make my own concept as regards Mozart and, generally, the music. What we want to spread abroad is that we love the music."
In the end, the General Director of Bucharest Symphonic Orchestra - the flutist Catalin Opritoiu is outlining a short description of what had been done and of what fallows in the Hello Culture! project:
"I must tell you what is our motto and what are we trying to do next. We try to advertise the classical music and to bring in the classical music among all the people. We have a project named Hello Culture! and there is a series of concerts entitled Great Masterpieces of Great Composers. Mozart - the Genius was one of them, a concert that came after Beethoven - the Titan and Dvoűák and after another series. We are going to continue this series with Tchaikovsky and Rachmaninov and other great composers."
Ana Diaconu
Translated by Negoiță Roxana-Beatrice
MTTLC, the University of Bucharest