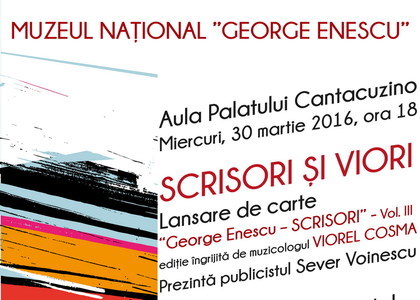 'Letters and Violins' at the National Museum 'George Enescu'
Thursday, 31 March 2016 , ora 11.16

The third volume from the 'George Enescu - Letters' series was launched on Wednesday, 30
th
of March 2016, in one of the most beautiful building of the capital, the Cantacuzino Palace.
The cultural evening 'Letters and Violins', organized by the National Museum 'George Enscu' was in fact the reason of a triple celebration. Therefore, beside the release of the book and of the chamber recital that could be seen on the poster of the event, the musicologist Viorel Cosma, the person who worked for this volume, was celebrated. Beside the fact that Viorel Cozma gave a speech that could impress the composer George Enescu in the most diverse human hypostases, he also shared with us a few thoughts of joy regarding this special day:
'I have never had the chance to celebrate my birthday in the same day with my book launch. This evening we had a double event: the book launch and my birthday, events that overlapped, thus, I had the opportunity to enjoy this special rejoicing. I was extremely glad for the appearance of this volume, realized by the museum.'
At the beginning of the evening, Sever Voinescu, a famous publicist, lawer and politician, presented his opinion regardind the volume of letters:
"Writing letters, the mail, this epistolary composition, is the only way to bring together the friendlessness and the friendliness. Is the only place where someone can be all by himself and also along with the others, with the ones for whom he is writing. I remembered this while I was reading this volume because these poles are present in Enescu`s mail."
The second half of the event, entitled 'Enescu's violins in the recital', had as protagonists Gabriel Croitoru, along with some of the students from his violin class, Andra Andrei, Simina Croitoru, Sabin Penea and Laura Șandru. The fifth violinists performed on violins that belong to the George Enescu collection, signed by the famous Luthiers Guarneri del Gesù, Pierre ºi Hippolyte Silvestre and Paul Kaul. Being accompanied on the piano by Clementina Ristea-Ciucu, they delighted the audience with a few songs of the classical music from the composersʹ creation, who is Igor Frolov, Astr Piazolla, Scott Joplin, Dmitri Șostakovici and Fritz Kreisler. The entire manifestation was presented by Cristina Andrei, the general director of the National Museum 'George Enescu'.
Ana Diaconu
Translated by Oana Diaconu
MTTLC, the University of Bucharest , 2nd Year