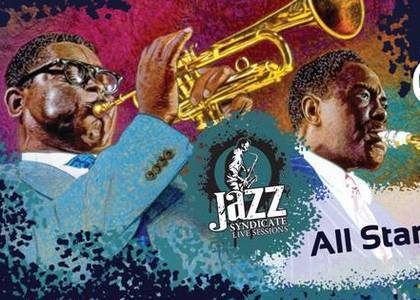 Legends of Jazz at Radio Hall
Tuesday, 5 April 2016 , ora 12.33

An introducer, a quintet and two legends of jazz are evoked in a musical tribute. It happened on Thursday, 31 March 2016, at Radio Hall in a beautiful setting at Jazz Syndicate Live Sessions: "Legends of jazz - Charlie Parker and Dizzy Gillespie Tribute". It should have taken place a week after the tragedy that happened in the Colectiv club but the context determined the cancellation of the concert that implied an international team. Now the team came back in a brilliant configuration: Cătălin Milea- saxophone, Sebastian Burneci- trumpet, Sorin Zlat- piano, Adrian Flautistu- contrabass and Laurențiu Zmău- battery. The five performers offered the audience a very energic concert- a be-bop adapted to the year 2000 with authentic improvisations, sampling effects, great virtuosity and a feeling that makes us have beautiful thoughts about the new generation of Romanian jazz. The trumpeter Sebastian Burneci declared before the concert: "We composed all kinds of tribute songs to the two masters of jazz which of course, are performed in our own style and how we got to assimilate their art. But, of course, it will be a very pleasant evening."
What does Dizzy Gillespie`s music means after 70 years since it was composed?
"It is an enormous source of inspiration and a very intense experience every time we listen to this music."
So we had the pleasure of listening to Charlie Parker and Dizzy Gillespie- from Parker`s Mood, Bird`s Work, The Mooche to A Night in Tunisia and Relaxin at Camarillo. These are songs performed in a very fast rhythm with the exception of Laura ballad suggested by the pianist Sorin Zlat. I`ve admired all five musicians and if I have enough time I would speak with every member of the band. Last night at Radio Hall I listened a trumpeter that has an inner fire, a pianist that embraces the entire keyboard with his gushing solos- a delight for every jazz lover, a battery that was practically unleashed at the end, a perfect contrabassist and a saxophonist whose experience on the Dutch jazz stage makes itself known in an nonchalant manner.
Cătălin Milea: "I am glad that I can perform this kind a concert, here, in Romania. Somehow there is this inclination of jazz performers to copy their idols but in the evening of Charlie Parker & Dizzy Gillespie Tribute concert I haven`t even tried to do that because it is not possible. We live in 2016 and if we even try to perform like in the 1950`s it`s almost impossible. Firstly, there were other conceptions, mentalities another cultural backgrounds, and somehow everything sounded differently. I believe that if we try to copy something is practically useless and it is much more interesting to add something new to a song that was already made and that`s what we`ve tried to do through our arrangements and through the fact that we are not Americans, but Romanians.
Author: Marina Nedelcu
Translated by: Ilinca Elena Dinulescu
MTTLC, the University of Bucharest
Marina Nedelcu
Translated by Ilinca Elena Dinulescu
MTTLC, The University of Bucharest