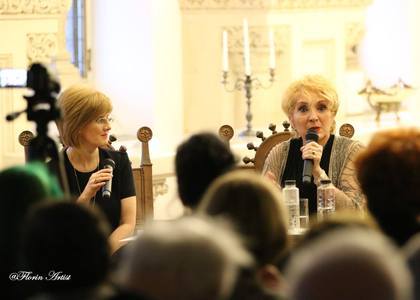 The first edition of the event 'Opera FANtastica'
Friday, 1 April 2016 , ora 10.56

On Thursday, the 31st of March 2016, in the Cherchez Hall of Cotroceni National Museum, took place the first event of the series Opera FANtastica, organized by Calea Victoriei Foundation. The evening, finely coordinated by Luminița Arvunescu, our colleague, has truly emphasized the idea of "fan", clearly highlighted during the performance. It was an event exclusively dedicated to opera lovers and to the artists that have built themselves an impressive career on the greatest boards of the world. Soprano Nelly Miricioiu, the evening's guest, was in the limelight, as she also celebrated her birthday. The artist offered the audience a complete performance: she sang, remembered old times and engaged in dialogues with whoever was willing to. We heard Romanian lieder from the beginning of the Nineteenth century and also opuses by Donizetti and other composers. In my view, Nelly Miricioiu had a moment of pedagogical mastery when she performed a bel canto fragment to other musical styles. Gently, she managed to clarify the bel canto concept to many people from the audience, as this is many times a very ambiguous notion.
The musicologist Mihai Cosma, Artistic Consultant of the Bucharest National Opera House was also in the hall. Here is what he told us about the event: "A very special evening. For me, it was the first time I had the chance to be near Nelly Miricioiu, one of the artists that have represented the Romanian art across borders, at the highest level and I was glad to discover a person of remarkable spiritual warmth and special generosity, beyond a public figure of the art of singing. All in the same key, the one of generosity and joy of communication, I can say that I am glad that during her stay in Romania, these days she will not avoid the Bucharest National Opera House and the students of the Conservatory from Bucharest, as she will be meeting some of the most talented young people, in order to give them some very precious advices, that they will certainly need. "
Of course, the evening was thrilling and here is why soprano Nelly Miricioiu saved for the end the narration of the following experience:"I am speechless! I did not expect this! Luminița Arvunescu, the guilty one for all these events that took place this last week, asked me: Have you got any expectations? Try not to be disappointed. And I replied: No, I don't have any kind of expectations. I have been through so many disappointments so far, that I didn't want to acquire another wound. It was a sort of last attempt for me, in order to recover myself and it is not about the fact that everyone talks big about me, not at all, as I don't praise myself, but I felt that their souls vibrated along with mine, especially while I was singing. "
Radu Mihalache
Translated by Raluca Ilie
MTTLC, the University of Bucharest, 1st Year