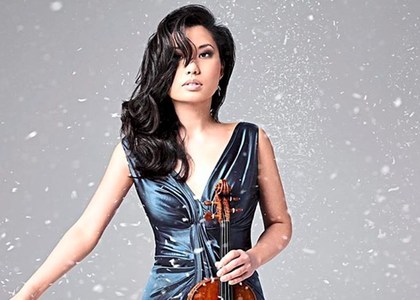 Sarah Chang on stage at the Palace Hall, Bucharest
Monday, 18 April 2016 , ora 9.59

"Very beautiful, a marvelous concert, precisely because it is rare such a combination!"
"An amazing concerto, with a forceful style. I found it almost masculine, strong. Very interesting moments of music, during the performance I was thinking that sometimes it seems that she follows a question that binds it to another question… It was delightful watching it!"
"It was one the Bucharest's audience favorite concerto, high class, of high sensitivity, with a fabulous experience, expressed, not introverted. It is technically flawless!"
These are just few of the reactions of the audience, present on Saturday evening (16th of April 2016) at the Palace's Hall. The reason - the return of a world-class star in Bucharest. It's about Sarah Chang, who this time held two concerts in Romania, the second city being Cluj Napoca.
The artist performed in the company of the Bucharest Symphony Orchestra and the conductor Jose Luis Gomez, a pretty good choice in the given context. The mystery of the program, was elucidated only in the concerto's night, apart from Bruch's concerto that they have announced, they performed, Beethoven's opuses.The opening started with the Overture "Hebrides", which left the impression of heating, due to the fact that the sound system was not quite good.
The moment with a high importance was, without a doubt, the appearance on stage of the violinist, Sarah Chang. Max Bruch's Concerto no. I, is a work on which the artist has a special connection with, especially since she learned this opus when she was only 5 years old. Moreover, this was the concert which secured her entry to Julliard School. And it was also felt in the Saturday night performance - an intimate knowledge of the musical text and firmness in approach.
Its sound almost had slightly masculine touches here and there, and an unstoppable force, with occasional excesses. However, I felt that this was the central event of the evening and the reason why we had three-quarters of the Palace Hall full (a pretty good presence of classical music events and ticket prices).
The second part of the concerto, has brought in front of the audience Beethoven's Symphony no.7, a work that has been, in my opinion, the best moment of the Bucharest Symphony Orchestra. Only at the end they found their true balance and gave to the audience their best.
Finally, I can say I had a pleasant night, that I enjoyed listening in Bucharest one of the world-class stars of the moment and I wish I could see more often such names performing here, not only in the prestigious Festival 'Enescu'.
Radu Mihalache
Translated by Ștefan Alexandra-Maria
MTTLC II, the University of Bucharest