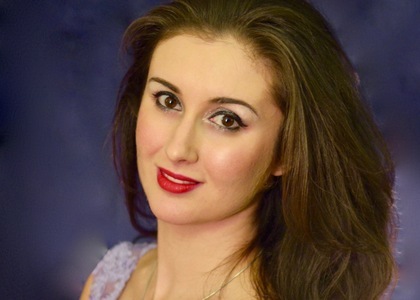 The Tuesday Evening Season - March 1st 2016
Tuesday, 1 March 2016 , ora 10.34

An auspicious spring beginning for The Tuesday Evening Season brings a long awaited artist before the public of Bucharest - the pianist Sânziana Mircea - for the fifth time on the podium on the Small Hall of the Romanian Athenaeum. On March 1
st
, Sânziana Mircea extended an invitation for the public to take a dream-like journey, explaining her musical endeavour step by step, beginning in the moonlight, with Beethoven's famous Sonata, and then on to Italy - Venice, and sun-drenched plains of Spain. The joy with which Sânziana Mircea plays, her youthful enthusiasm marked a successful evening for her, and her admirers:
"For me it truly was like a dream. It started in the soft moonlight and then slowly increased in intensity. We went off to Italy with Chopin's Barcarolle, because today, the 1st of March, is the anniversary of Chopin, and then we jumped from the Gondola in Venice to the plains of Spain, with the Spanish Rhapsody and several dances, lingering awhile on Iberian domain. I then chose the Romanian Dance by Giulian Cohran - a young Australian composer, who has composed many Romanian dances and is very passionate about our music, - which is not performed often, it is perhaps the first time it is performed at the Romanian Athenaeum, followed by a tango by Albeniz with transcription by Godovski and then concluded with "El Pelele", the last piece of the Goyescas Suite by Granados. Since the program consisted of works that are close to my heart, I wanted to share these thoughts with the public, to guide them through this hopefully pleasant journey." (Sânziana Mircea)
Sânziana Mircea seemed to me much more sophisticated, with a more polished sound, and a well selected program for her public, whose reaction was proof of her success - a full house; the pianist Verona Maier was also a member of the audience, and stated:
"Aside from her dream, which she felt she had to share with the audience, we can see that the recital was most of all a crowd-pleaser. This success is based on at least two things which I think are well worth noting: the first would be the concept that unified the rather stylistically diverse music, which, fortunately for the public, she managed to present in a way that resonated with the audience. The second is her unfaltering confidence, and unhampered way of communicating through music, which, for Sânziana, grew into a special relationship with the instrument. The instrument is no longer a mere piano, rather it is the medium for her to depict everything she has to share with us…"
On March 1st 2016, Sânziana Mircea has demonstrated once again that she has a bright pianistic career ahead, that she dexterously utilizes the technical and expressive medium that is her instrument, generously sharing her joy of playing music.
Jeanine Costache
Translated by Elena Gherca
MTTLC, the University of Bucharest