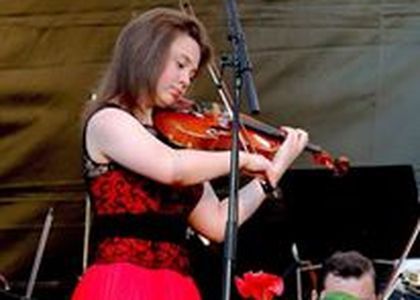 The Tuesday show - the 26th of April 2016
Thursday, 28 April 2016 , ora 11.02

For the fourth time, our guest at the Tuesday show is the violinist Mălina Ciobanu who returned on the 26th of April at the Romanian Athenaeum. I must admit, I was curious to watch her evolve continuously, being interested in her musical choice.
I started admiring Mălina Ciobanu three seasons ago with her songs of great virtuosity. Now, the young violinist added to her repertoire Sonatas and other works that show her skills from the inside and artistic point of view, a programme about which she said:
"The programme from this evening is part of a very diverse range of the romantic repertoire. There have been some really complex works and I feel that I've grown up very much thanks to them. I just hope the audience could see this from the technical and emotional point of view.
Mălina Ciobanu had many concerts, with over 100 participations on the scenes of Romania, Austria, Germany, Greece and Italy. More than 40 prizes rewarded her fierce work and persistence which always lead to success. In 2016, the violinist's greatest joy was winning fourth place in the International Czech Contest "Concertino Praga". On the 26th of April, Mălina Ciobanu chose to play Brahms, Schubert, Paganini and Wieniawski, with the pianist Ciprian Ciotloș.
They communicated very well, showing that they match from the musical point of view, they complete each other in their performances and that's why I asked them to define each other's personality:
"I'm glad that I played tonight with this pianist because we could work in detail this repertoire and probably the audience could sense our chemistry..." (Mălina Ciobanu)
"Mălina is an amazing kid, she has evolved tremendously and I feel that we're a team. She's very talented, fierce...I get the feeling she is playing chess in music. She is dancing through the notes and she makes each move thinking about the next one. I think she knows exactly was she's doing..."
Mălina Ciobanu proved to be once more a charismatic musician, with lots of expresivity, with an excelent technique and a thorough practice. The young musican knew as always to choose a balanced programme interpreted with confidence, virtuosity and lots of sensibility where you could feel the warm and vibrant tone of a musician who masters her violin.
Written by Jeanine Costache
Translated by Matei Denisa
(MTTLC, University of Bucharest)