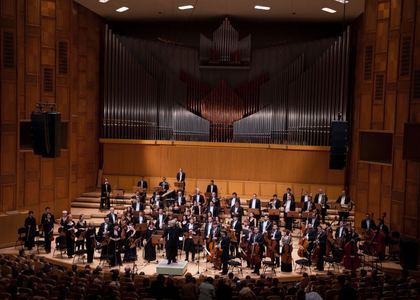 Anniversary concert 'I love Mozart' at Sala Radio
Saturday, 7 May 2016 , ora 12.09

Thursday, on the 5
th
of May 2016, in a room filled with people, the anniversary concert 'I love Mozart' took place, being organized by the Calea Victoriei Foundation. The event marked 260 years from the birth of the great classic and the
Symphactory
Orchestra was the one who played being conducted by
Tiberiu Soare
. The concert also started the annual series entitled 'I love…'. But why Mozart and his music ? The conducter
Tiberiu Soare
offered some answers:
'I love Mozart' is a concert based on faith, at least from what it concerns me. This man has always remained for me a great enigma, especially his music. He is a man who I've come close through his sheets. Obviously, I've also learned quite a lot during the years about the biography, the context, the background, but what definitely made me close to him were the works which he wrote. This concert is a love testimony for Mozart and for what he left us. It's about gratitude. With Mozart's music, we can salvage something from that feeling of sadness mixed with ecstasy. Something from that lost language of birds which probably wasn't unknown to men, when the Sky was much closer to the earth.
The concert had almost exclusively moments from the mozartien works, with one important exception : Little serenade. The evening's solists were the soprano Diana Țugui, the mezzosoprano Martiniana Antonie and the baritone Șerban Vasile- young voices, full of energy, appropriate for the chosen repertoire. Another important event of the evening was the launch of the book 'Nouă povești muzicale'/ 'Nine musical stories' by Tiberiu Soare. This book was launched thanks to the Calea Victoriei Foundation and its sponsors. Sandra Ecobescu, the director of this Foundation, gave us more details:
This book that we are launching today, 'Nouă povești muzicale' is actually a transcription of the conferences that Tiberiu Soare held at the Odeon Theatre. I've hardly convinced him to do that, but he is glad now seeing they have turned into a book. And very important, the composer Dan Dediu has helped us very much and you will see his name in the book, the last chapter actually being a dialogue between Dan Dediu and Tiberiu Soare.
Radu Mihalache
Translated by Matei Denisa
(MTTLC, University of Bucharest)