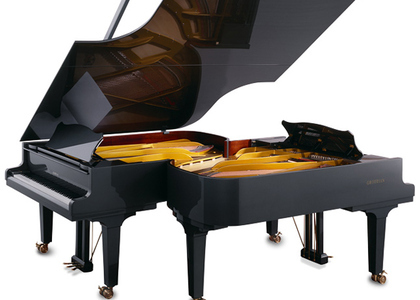 The Tuesday show- 10th of May 2016
Wednesday, 11 May 2016 , ora 11.46

The pianists Iulian Ochescu and Daniel Dascălu will perform on the 10th of May a chamber song- an unusual thing for the Tuesday show. Playing solo or chamber songs, the two young musicians had always had an interesting repertoire, carefully chosen and well studied. This evening's show at the Athenaeum will be no different, including chamber works. Beethoven, Schubert, Brahms and Rahmaninov are the composers who were chosen by Iulian Ochescu and Daniel Dascălu, two pianists with a lot of experience with concerts, each of them having a large number of prizes which will definitely grow, because this repertoire's idea has been inspired by the poster of a contest :
"We started from the poster which we have seen together in the Conservatory, it was about the Suzana Szorenyi Contest, and we thought it would be a good idea to participate even if we didn't have much time on hand to prepare the repertoire, plus that we didn't have that much experience. Anyway, we chose something that we liked, was diverse and last, but not the least, that respected the contest's rules. I consider Beethoven as a fresh exercise. Then, Schubert's Fantasy is a hit, you could say. Brahms is not so often played- it's all like a dream, a delusion where he saw the spirits of Mandelssohn and Schubert. And then Rahmaninov- there are some gorgeous songs, from my point of view, which, again, aren't so often played...but they are quite something."
Daniel Dascălu and Iulian Ochescu are two mature musicians who proved having a good pianistic technique and a well-set musical thinking, combined with an able use of the instruments. We also saw a very good communication between the two pianists, that's why we asked them to describe each other's personalities:
"It's been great to work with Daniel. Even if I consider he's oposite of me, but you know, minus and plus...it ended up really well."
"I think that our musical approach is kinda similar and this is a part of our connection."
During one hour, Daniel Dascălu and Iulian Ochescu's performance was ascending, they searched special things in the music of each composer, they managed in expressing emotion, they enjoyed making music together and to offer to those in the room an interesting show during our weekly radio show on Tuesday.
Jeanine Costache
Translated by Matei Denisa
MTTLC, University of Bucharest