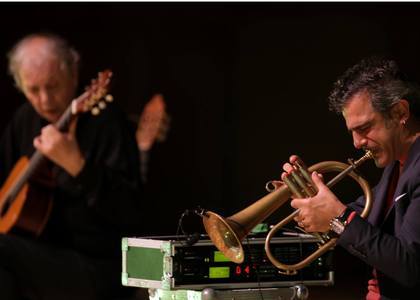 Paolo Fresu - Ralph Towner in concert at the Radio Hall
Tuesday, 17 May 2016 , ora 12.50

So successful was the last concert organized by the Jazz Syndicate Live Sessions at the Radio Hall. On Saturday, 14
th
of May 2016, at Bucharest a great Italian trumpeter - Paolo Fresu sang together with a legendary American guitarist - Ralph Towner, one of the founder members of the group Oregon, who has a very-well structured career.
However, the concert was opened by a group - "Jazzappella" - into a beautiful evolution - only five voices, but so well harmonized, with a fine groove, inspired arrangements, a warm and smooth sound. Congratulations Jazzappella for every apparition! And here are the two on the stage, for 15 years singing together. They mainly offered us
Compositions signed by Ralph Towner, recorded some years ago were included on the album "Chiaroscuro". You rarely have the occasion to listen to a dialogue between a trumpet and a guitar, telling their story so tenderly, so relaxing, and with such artistry. I use a term from the classic music because the whole night had something within the frame of a classic recital. Paolo Fresu is also compared with Miles Davis, but it is that lyrical flow that Italians are born with. What is amazing is the fact that Ralph Towner, in his compositions, touches exactly these coordinates and that is why, probably, he chose the Italian trumpeter as his partner. Before the ending of the concert he stated the following:
"We are happy tonight to share with you our last concert from our tour. We finish today a long tour around Europe. We have traveled everywhere, we went to Scandinavia, to UK, we went to Poland, to Italy, to Spain, to Austria, and tonight, here in Bucharest. Ten concerts in eleven days. Thank very much for the fact that we are here!"
Paolo Fresu and Ralph Towner - two old friends, who communicate naturally, they complete each other - not to mention the exceptional music skills they have - those are fulfilled perfectly. We should also mention that perfect disc that any other artist would desire. The idea of symphony is still there, the idea of harmony, nicely bent phrases, the melodies, intimacy, or at what level you could feel the music, or how you can become one with the music, regardless of its profile. This is the lesson that Paolo Fresu and Ralph Towner have offered us at the concert from Saturday evening.
"They managed to create a show, the two musicians."
And about Jazzapella... "A pleasant surprise! I wish there were more a capella groups in Romania. A different music of what had followed. Of course, this was probably the point - to be two musical realities as different as can be, but both as sophisticated."
Marina Nedelcu
Translated by Alina Alexandra Deacu
MTTLC, University of Bucharest