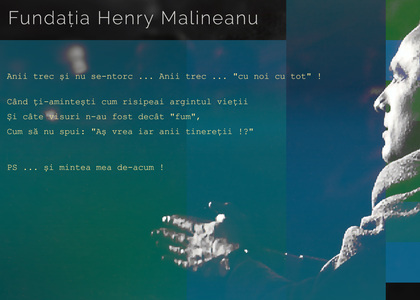 'Henry Mălineanu' Foundation Was Founded
Thursday, 19 May 2016 , ora 11.38

On Wednesday, 18
th
May 2016, in the assembly hall of Cantacuzino Palace there was an event which officially marked the birth of a foundation created to honour the renowned composer of light music and soundtracks, Henry Mălineanu. The mission of the foundation is to support the talented young Romanian musicians and not only them, by any means possible. The initiative of creating this type of foundation belonged to the composer's two sons: Mălin și Codruț Mălineanu, who were also present at the event as hosts. However, they were not alone in their initiative, since a great number of representatives of the Romanian culture were also present and wished to pay homage to the artist Henry Mălineanu. The spokespersons were: composer George Natsis, journalist Octavian Ursulescu, actors Stela Popescu and Alexandru Arșinel, musicians
Corina Chiriac
:
"The first composers who gave me songs were Aurel Giroveanu, Edmond Deda, Laurențiu Profeta and Henry Mălineanu. I was blessed to meet and work with the elite of Romanian Jews, some of the best."

…and Horia Moculescu:
"On this occasion, I have discovered the greatness of the creator who was called Mălineanu. I didn't know he wrote so many songs. I knew a couple of them, but then, I discovered other songs, presented in all musical publications. I apologize for not knowing beforehand what a great man he was."

…and, finally, actress Maia Morgenstern:
"I congratulate you on creating this foundation and I believe it was not created with a general purpose, that for which we all meet up and we talk about how great the old times were. The creation of maestro Henry Mălineanu is alive and catches the attention of those who are young and very young."
The evening finished with a piano recital, with works created by Frédéric Chopin, Robert Schumann and George Enescu, and it was performed by Dimitri Malignan, the nephew of Henry Mălineanu. The piano player is currently studying at École Normale de Musique de Paris "Alfred Cortot" and he obtained a couple of days ago First Prize at the piano section of the National Music Contest "Mihail Jora".
Mălin Mălineanu shared his opinions at the end of the night and spoke about the foundation's goals for the next period of time.
"It has been an exciting event for us, a soulful moment. There were many friends beside us, we felt many energies, he have communicated in the same way our parents did a long time ago. He will strive to follow the artistic phenomenon and we promise that you will hear a lot about us because we want to give a chance to the young artists, we want to support Romanian music - the Romanian light music. We will spare no effort to make this happen."
Ana Diaconu
Translated by Irina Mihai
MTTLC, University of Bucharest