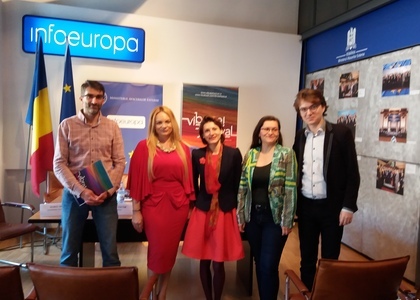 Vibrate Festival - Second Edition
Thursday, 19 May 2016 , ora 11.46

On Thursday, May 19
th
2016, at the Info Europe Center in Bucharest took place the press conference launching the second edition of the Vibrate Festival. The Festival will begin on June 19
th
in Brasov and includes a series of concerts and recitals, two artistry courses, but also exhibitions and workshops.
Vlad Maistorovici, Diana Ionescu and Mădălin Iacob - the executives and founders of Vibrate Festival, Doris Mircea - a representative of the Info Europe Center and Andreea Koch - the secretary-general of the Association for Music, Arts and Culture participated at today's conference.
We are talking about the second edition of Vibrate Festival whose main theme is air. For eight days, the festival makes possible the reunion of young musicians from Great Britain, Germany, Ukraine, Switzerland, Holland, Spain, Italy and Romania, performing chamber music. Seven of the artists invited graduated from The Royal Academy of Music in London, while three of them are winners of the George Enescu International Competition. We are talking about the composer and violinist Vlad Maistorovici - the Festival Chairman, the pianist Diana Ionescu - the artistic director and the violinist Valeriy Sokolov.
The creed stated from the very first edition of the Vibrate Festival is setting forth the idea that classical music must be accessible to anyone and it may be performed in many other venues, apart from the standard ones. Thus, the festival brings chamber music in unconventional places, promoting the architectural heritage of Brasov. We will have concerts at the Synagogue, the Weavers' Bastion, the Multicultural Center of University of Transilvania and the National College "Andrei Șaguna".
The Grand Opening of Vibrate Festival will take place at the Assembly Hall of the University of Transilvania on June 19th and the closing ceremony and concert will take place at the enchanting Weavers' Bastion on Sunday, June 26th. A special concert will be performed on the day before the closing ceremony, on Saturday, June 25th at The Black Church in Brasov with the soprano singer Leontina Văduva as a guest. This concert celebrates the 30 years career of the soprano singer.
It is important to mention that during the Vibrate Festival two artistry classes will take place, organized by the violinist Valeriy Sokolov and the pianist Antoine Francoise; both classes are for the young musicians from Brasov and the whole country. The registration for these classes is free and the registration forms are available on the festival's site.


Lucian Haralambie
Translated by Lucia Mustață
MTTLC, Bucuresti, an I