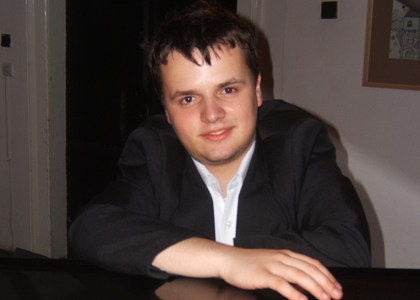 Tuesday Evening Season - 21st June, 2016
Saturday, 25 June 2016 , ora 16.07

The Tuesday Evening Season is at its end. It is a project of the "George Enescu" Philharmonic in partnership with Radio Romania Music. The 2015 - 2016 season presented 36 solo, chamber music and old music recitals. This is this season's account, a season coordinated by musicologist Cristina Sârbu who also stated:
I am glad that this season's closing concert in which we started Beethoven's Complete Sonatas for Violin and Piano is a new beginning, because the next seasons will also present two concerts on this theme. Beethoven composed many sonatas, which are many and beautiful.
"We have already started preparing for the eighth season which begins in October 2016. It has finished and… I am glad that we initiated Beethoven's Complete Sonatas for Violin and Piano this year and that next season there will two more concerts. Next season, we will invite instrument players who study abroad and...they are gradually more and more every day, and better and better trained, which makes me glad because they return and bring their new colleagues with them, so young foreign instrumentalists come to Bucharest, the Small Hall and the Tuesday Evening Season which is... an honour equally both to them and to us... . Alternately, there are only a few chamber music recitals next season, but, I was also very brave and invited more soloists whose voices ... you are going to listen to in the 5 or 6 lied recitals..."
On 21st June, in the last edition of the Tuesday Evening Season, the violin player Peter Rosenberg - an experienced musician who has an important symphonic and pedagogical career being more than three decades the concertmaster of the Symphony Orchestra in Bamberg - went up on the stage of the Small Hall of the Romanian Athenaeum. The collaboration between generations seems to have been the characterisitc of the Tuesday recital, as, in this ambitious musical discourse - Beethoven's Complete Sonatas for Violin and Piano - Szöcs Botond, young and talented pianist from Brașov, proved to be an equally valuable partner to the well-known violinist. And I could also add that Szöcs Botond, the only 20 year-old musician, was "the engine" of this recital, and proved his very good piano playing technique, mature thinking, temperament and energy. Peter Rosenberg completed the recitals with his high technical experience in playing the violin, by highlighting his phrasing and, last but not least, his style of interpretation. And yesterday evening it was…Beethoven.
"Peter Rosenberg is our old friend from Cluj; his brother, Gabriel Rosenberg, and I were colleagues, he is a very good pianist and…currently, professor in Nuremberg. I was interested when Peter sent me an e-mail in which he wrote: "I have an offer for you. Are you interested?"… Of course, I was interested… an enchanting emotion mingling the past and the present…His colaboration with young Szöcs Botond was also interesting. Szöcs Botond is an exquisite and very expressive pianist who deals very well with Beethoven's sonatas. Peter retired from Bamberg, especially to have enough time to fullfill some of his dreams in these retirement years, such as, these Complete Sonatas by Beethoven..." (Cristina Sârbu)
Jeanine Costache
Translated by Elena Daniela Radu
MTTLC, the University of Bucharest