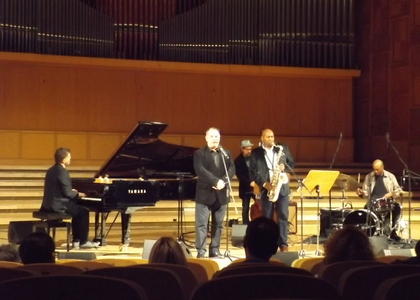 Lucian Ban and the Elevation Quartet performing at the Radio Hall
Wednesday, 12 October 2016 , ora 9.20

Rain, the passion for sport, politics, or who knows what, made the people of Bucharest to lose one of the most beautiful performances of the fall in 2016.
It took place yesterday at the Radio Hall. Elevation Quartet, lead by the pianist Lucian Ban held the concerto which closed a long European tour. One Romanian and three Americans performed the music of the last album Songs from afar in Paris, Valencia, Madrid, Germany and Romania, first in Transylvania then in Bucharest, like Lucian Ban stated:
''Personally, for me, it's a special event , because after more than ten years, I came back on the Radio Hall's scene, and for Elevation, is their first time on this stage. I want to thank the Jazz Syndicate Sessions for the fact that they made possible this performance to take place.''
I had more than what the album released in 2015 offers - a material marked by the critics of the Downbeat publication magazine with 5 stars - Songs from afar - a statement of homesickness made by the Romanian pianist, now settled in New York, in the company of brilliant instrumentalists - the saxophonist Abraham Burton, the bassist John Hebert, the inventive drummer, Eric McPherson.
An honoured guest in a few songs, was Gavril Țărmure. It is extremely gratifying to hear top musicians in the world of North American jazz, singing traditional songs from Transylvania. In addition, a very good quality jazz, documented and inspired, a lot of feeling, customised speech, full of substance. There is a pure feeling in Gavril Țărmure's performance, intuited so well by the members of the Elevation quartet. No free musical gesture, intelligent arrangements, original compositions. Lucian Ban, either as a leader or as accompanist, offers the image of a celebrated artist and his music has the gift to fascinate.
Lucian Ban: '' The jazz can live without the traditional music of Romania and the traditional music of Romania without jazz, but when the musicians are gathering they create something unique, and if we can make the audience to feel the music, it's even better.''
Present at the performance was the pianist, Mircea Tiberian:
''Lucian is a very refined and good compositor. He's got the sense of form, orchestra. He's a very good compositor, especially with the harmonics. Not to mention his qualities as a manager! I am sorry that people didn't show up at the performance, but there is an explanation. Lately, if classical performance became the place where the diplomatic elite gather, jazz performance can be attended by corporates, since they have the money to pay tickets''
Marina Nedelecu
Translated by Alexandra Ștefan
MTTLC II (promoția 2014)