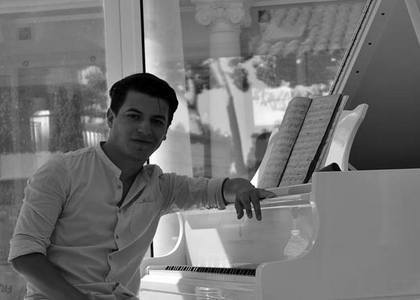 Tuesday Night Season. 18th of October 2016
Wednesday, 19 October 2016 , ora 11.11

Enescu and Bartok are the composers chosen by the pianist Abel Corban on the 18
th
of October 2016 at the Small Hall of the Romanian Athenaeum. The same as last season, he opened the second night of this Tuesday Night Season. Abel Corban has a very good piano technique, which gives him the courage to approach a difficult but in the same time eclectic program with two composers of the 20
th
century: "I was nervous regarding the audience in the hall, because it is not a very offering repertoire, especially for music lovers, but I consider that for musicians this repertoire would be very offering. And that is why I was nervous regarding their number. I am glad that they were and I think that as many as they were it was all right, they are leaving with something at home."
Abel Corban had a numerous audience, proved maturity, colour, expression and capacity of construction in a program that contained Alegro barbaro, Suite op.14 and Rhapsody op.1 by Bela Bratok and a selection of Suite op.18, no.3 by George Enescu. With this program, Abel Corban made an exciting evening, a "tribute" as he declares: "I have tried through this recital to pay tribute for the two composers. This year is an anniversary year - we celebrate 135 years from their birth - and I am involved in an underway project. I come from Paris, now at Bucharest and there will be many other recitals around the country. I try to play what it is not very often approached, unfortunately. It is hard to begin with Alegro barbaro because it is the debut of the recital and it is a strong song. Otherwise, I have tried to feel as good as I could on every song and to feel the music. Both composers have an extraordinary creation and, unfortunately, it is not exploited as it should be. I think I owe what I do to my master, Vinciu Moroianu, who inspired me - to approach everything I can, every composer, including those with contemporary music, especially in the anniversary years, as well as songs that are not played as much as they should be."
Abel Corban is the only Romanian pianist who won the "Bela Bartok" Prize at the Liszt-Bartok International Piano Contest of Sofia, in 2015. On 18th October 2016, he returned for the fourth time at Tuesday Night Season, proving once again he is an intelligent, mature musician, with diverse colouring and with a great pleasure to sing.
Jeanine Costache
Translated by Emilia Mărculescu
MTTLC, 2nd year, University of Bucharest