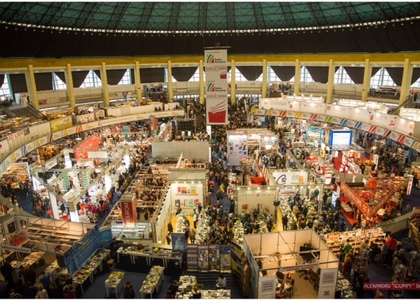 GAUDEAMUS Radio Romania Book Fair 2016 - 5 days, 850 events, 125,000 visitors
Tuesday, 22 November 2016 , ora 12.18

GAUDEAMUS International Book and Education Fair 2016 took place between November 16th - 20th, in the Central Pavilion of Romexpo Exhibitions Centre.
The event, having reached its 23
rd
edition, is the only book fair in the world initiated and organized by a public radio service: Radio Romania.
GAUDEAMUS 2016 highlights:
- 125,000 visitors
- 300 exhibitors from 5 countries: Romanian and foreign publishing houses, book distribution agencies, educational institutions, professional associations, cultural and educational non-governmental organizations, museum, libraries
- 850 accompanying events - book launchings, book signing sessions, professional debates and forums, creative workshops etc.
The Guest of Honour of GAUDEAMUS 2016 was CHINA. The most complex Guest of Honour presence in the history of the fair, the Chinese participation was organized by the State Administration of Press, Publication, Radio, Film and Television of China, through China National Publications Import Export (Group) Corporation.
GAUDEAMUS International Book and Education Fair 2017 will be organized by Radio Romania between November 22nd - 26th. The Guest of Honour of the 24th edition will be the United States of America.
GAUDEAMUS International Book and Education Fair is part of the READING Program initiated and organised by Radio Romania since 1994. The READING Program is a complex cultural project of national amplitude aiming to support the Romanian written culture through exhibition-type events dedicated to books and education. After over 20 years, GAUDEAMUS stands for 96 book fairs organized in Bucharest and throughout the country, over 2,7 million visitors and approximately 11,300 accompanying cultural events. These numbers confirm Radio Romania's position as national leader of the book fairs market.
GAUDEAMUS - A Radio Romania event
Partners GAUDEAMUS 2016

Main partner: BRD - Groupe Société Générale
Sponsors: Vodafone România and Dacia
Project supported by the Ministry of Culture