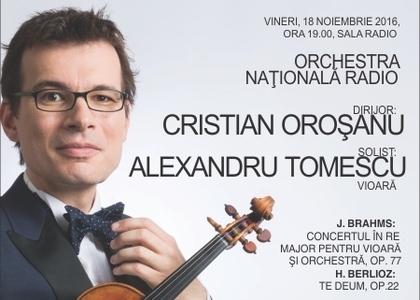 The violinist Alexandru Tomescu and the National Radio Orchestra conducted by Cristian Oroșanu
Monday, 21 November 2016 , ora 14.45

Sala Radio hosted a special concert on Friday, 18 November 2016. The National Radio Orchestra' s program, ensemble which was conducted by Cristian Oroșanu, was composed of one of the most monumental works of the repertoire and one of the most loved opera.
More information about this topic from Lucian Haralambie's report.
"I've waited more than 20 years to play again this Johannes Brahms concerto- a piece of work which I thought it best to wait until I reached 40 years old ( which I recently did) before performing it. I obviously rediscovered all the excitement and all the passion of this music."- Alexandru Tomescu, the National Radio Orchestra soloist in Johannes Brahms' Violin Concerto in D major, Op. 77 , on Friday night.
"It touched my soul! It was simply divine tonight. We are very delighted by the performance."
"A delight! It was a really special joyful moment. An experience! A proof of this is the fact that I want to remain with it, with this feeling, with this pleasure and I don't want to listen to anything else."
" Alexandru Tomescu is the type of artist that knows how to interpret any kinf of musical genre. He was amazing, a trully romantic performance. It was as if he was Brahms himself! With lyricism, with a waggish spirit in the 3rd part, with a serenity and maybe a tone of nostalgia in the 2nd one."- Tudor Ionescu, conductor at Vox Medicalis Chorus.
In the 2nd part of the evening, three of the ensembles of Radio Romania performed in front of an extremely large audience. The National Orchestra, Radio Academic Choir and Children's Choir were conducted by Cristian Oroșanu in one of the most impressive works of classical music- 'Te deum' by Hector Berlioz, " an enormous composition, which some critics called it a monumental work", as the author had written in his memoir. And, as it happened at the end of Brahms' concerto, the rounds of applause lasted munutes on end.
"Extraordinary! I listened to it for the first time and I enjoyed it very much!"
"Splendid! I've never listened to 'Te deum'. So, for me, it really was a revelation! It was a pleasure listening the musical ensemble. They have very beautiful voices. I liked it a lot, I shall come with great pleasure at the future concerts of the Romanian Radio Broadcasting Society."
Lucian Haralambie
Translated by Andreea Dinescu
MTTLC, 1st year, University of Bucharest