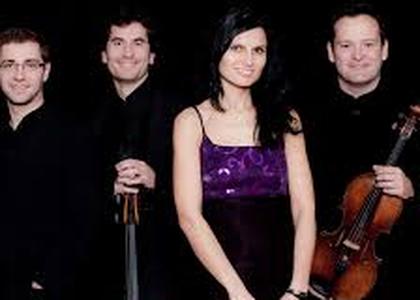 On Music, with the Belcea Quartet
Friday, 16 December 2016 , ora 12.52

The Belcea Quartet is modern: they read their music on a tablet, not on a paper score. Belcea Quartet is Classic: they possess unity of expression, of intention, of technique. The Belcea Quartet is Romantic: they wail, launch brutal attacks, lay their soul bare for everyone to see. The Belcea Quartet is contemporary: they give the first performance of works created in 2016. That many quartets, and that many personalities? Or rather just one, but highly complex, as I was the witness of on December 15, 2016 at the Flagey Hall in Brussels.
Corina Belcea, Axel Schacher, Krzysztof Chorzelski and Antoine Lederlin opened the evening with Franz Schubert's Quartet D87. They set the atmosphere from the very beginning: through an indescribably soft volume they cast a spell on the audience and kept everyone in an absolute and palpable silence throughout their recital. Sighs of joy, a peasant dance, surrendering after having tried all things possible and a victorious, happy finale were as vivid as if they were drawn in a strong crayon by the Belcea Quartet, true artisans of sound.
Krzysztof Penderecki's Quartet no. 2 debuted, too, in an almost inaudible pianissimo which then turned into a lively conversation among birds, on which the composer threw sounds like insistent whispering, like reel tapes played on the wrong number of centimetres per second, like conclusions as definitive as they opened new possible solutions, and which he finalized with the imitation of a slowly dying engine.
After the break, the Belcea Quartet gave the first Belgian performance of Penderecki's fourth quartet. Written in 2016, almost half a century later than his second, it is more melodious and coherent: the Polish composer is here a Romantic suddenly waking up in our times, who is, therefore, not quite sure about the ground he steps on and whose melodies have become a little out of tune with time-travelling, but who kept his Romantic élan and beliefs. Krzysztof Penderecki himself warmly applauded the Belcea Quartet and was in his turn respectfully greeted by the Brussels audience.
The musicians led by Romanian violinist Corina Belcea played lastly Franz Schubert's Death and the Maiden Quartet. With a first violin placed predominantly in the upper register, it shaped not only a state of expansion, but one of permanent tension too. There is no doubt that Schubert is a Romantic - even if his harmonies are not always surprising, the emotional charge, the message they communicate and the way they do it, that is, the way these harmonies are brought to life, cannot but belong to a Romantic. Death and the Maiden also leaves one wondering: what infinity of resources music has, when all composers use the same notes, what clearly-cut individuality all these composers have, too…
The Belcea Quartet filled the Flagey Hall with sound - of the music played at a level worthy of all awards won (Diapason d'Or, Echo Klassik, Gramophone), and with silence - of an audience at times barely daring to breathe. Was it the magic of the chamber music on instruments belonging to the same family, where, therefore, the timbre clash doesn't exist, the impeccable acoustics of the Flagey Hall, Schubert's superb music, Penderecki's vision, the performers' skill? Was it the perfect collaboration of all this that made such a great evening? I don't really wish for an answer. But I do wish to express my joy of having listened to a recital which made me very much look forward to sharing with you all of the above.
Maria Monica Bojin