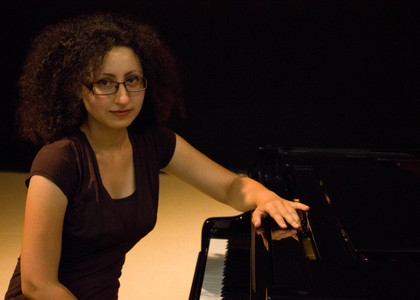 The Tuesday evening show- the 17th of January 2017
Wednesday, 18 January 2017 , ora 10.22

The first recital of 2017 of the weekly show on Tuesday has brought on the stage of Sala mică at the Romanian Athenaeum the pianist Andra Demidov. Winner of several awards, she has also won in 2015 first place at the Hungarian Music Festival in Bucharest. In 2014, Andra Demidov became a doctor in music. Andra Demidov seemed to me a mature performer with a rich concert portofolio, with recitals and numerous participations at festivals and crafmanship courses both in Romania and abroad. Andra Demidov chose to present only songs by Ludwig van Beethoven, meaning Sonata in E flat Major, op 7, 32 variations in C minor and Sonata in F minor, op 57 "Appassionata".
The young pianist had a warm approach, a good pianistic technique, nerve and rhytm, all these being wrapped in feminine delicacy. She's been applauded with enthusiasm and recalled several times by those present, both music fans and musicians, such as the soprano Angela Șindeli: "It's bold to approach Beethoven and it seems to me that the pianist Andra Demidov managed this evening to transpose us into his music, into his world. Impressive! At least, Appassionata is a monster to me, a challenge to any pianist and Andra showed what she's made of tonight!"
A Beethoven show, approached with easiness, virtuosity, robustness which reveal through Andra Demidov's evolution the traits of a mature musician with concert experience.
Jeanine Costache
Translated by Matei Denisa
MTTLC, University of Bucharest, 2nd year