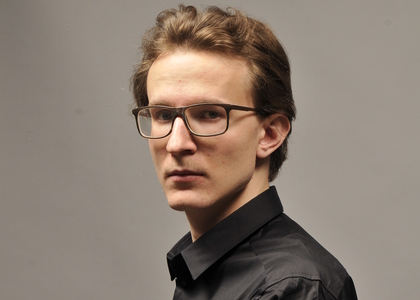 Tuesday Evening`s Season- 7th February 2017
Wednesday, 8 February 2017 , ora 13.39

Tuesday Evening`s Season dedicates February to the Romanian students that are studying in Vienna. Daniel Dascălu`s performance is observed with very much interest because he was invited for the sixth season on the stage of the Small Hall in the Romanian Athenaeum.
"It feels almost like home. Everything is familiar and I`m always glad to come and perform here."
Even if it`s about soloistic or chamber performances Daniel Dascălu has always brought interesting, well thought and studied programmes. It is also the case of the recital from the 7th of February including Robert Schumann`s Dances of the League of David:
"I wanted to dedicate a recital to this track composed by Schumann which I love very much. Every time I study or perform it to the audience I discover new things. I believe is a very complex and profound track with lots of details just waiting to be discovered so I wanted to dedicate a recital to this track and as a prelude, two studies by Liszt."
At just 26 years old, Daniel Dascălu is a musician with numerous records and uncounted participations to excellence courses. He graduated University of Music from Bucharest and the pianist completes his studies in Vienna. Daniel Dascălu performed in the most important musical cities in the country like Iași, Constanța, Brașov, Piatra Neamț and București and outside the country, in Vienna, Cremona and München. I really felt in his track a real musical feeling in a carefully studied programme and performed with a good pianistic technique with a lot of expresivity and in a great artistic manner. The audience was very enthusiastic about his performance meaning that the message he wanted to share was fully understood.
"I wanted to share with the audience the exact meaning that the composer wanted to transmit meaning to share the music just the way it is in an objective way to let people understand, to be like the mirror."
When he performs, Daniel Dascălu seeks for special things in every composer`s work, manages to express emotions, enjoys to make music and to offer the audience unique performances like the one from last night with Liszt- Schumann included in this Tuesday Evening's Season.
Jeanine Costache
Translated by Ilinca Dinulescu
MTTLC, 2nd year University of Bucharest