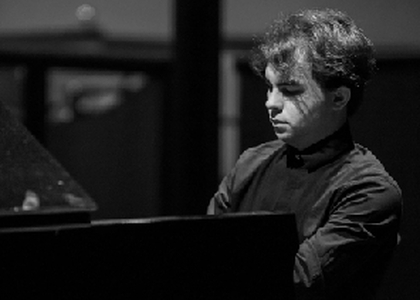 The show on Tuesday evening- the 21st of February 2017
Wednesday, 22 February 2017 , ora 15.20

A passionate pianist who shows confidence, self-control and virtuosity, a musician drawn by the plenitude of nuances and emotions transmitted thanks to the piano. This is how you can define
Dragoș Dimitriu,
a consecutive guest in the show on Tuesday evening. Dragoș Dimitriu strongly believes that "the same note, depending on how it is interpreted, can express various emotions..." and he proved just that in a programme which included works by Haydn, Albeniz and Schumann, presented on the 21st of February 2017 at Sala mică of the Romanian Athenaeum.
Dragoș Dimitriu had studied at the Music and Dramatic Arts University in Vienna and he already has an ascending career, managing to play on renowned European stages, such as the Harmonium ball in Berlin and also others in Austria, Japan, Italy, Switzerland and France. Beside the soloist career, he has a rich activity in the chamber music domain, performing with "Duo Nobile" in Italy, Austria, Switzerland, Romania, Japan and winning with "Avante Trio" first place in the spring of 2015 at the International Music Contest in Udine. He also won first place in 2016 with the saxophonist Marko Dzomba at the "Casino Austria Rising Stars" contest in Vienna. Dragoș Dimitriu is also a manager, founding an asociation which helps young talents
I felt passion in the performance of the pianist Dragoș Dimitriu, the same passion with which he spoke about his musical career :
"These are some of my favourite songs and I wanted, let's say, to play all the four cicles of Imperial in the next years- about one a year. These are some absolutely gorgeous songs! And Schumann, Symphonic Etudes...I played the second version which he modified in 1852. These are added works which he actually didn't finish, but they are brilliant and I think it's a shame that people don't play them. And Haydn...I think it's the most comical, funniest sonata of all Haydn's works, at least in my oppinion...and I said, why not ?"
Dragoș Dimitriu is a pianist for whom the sound with its plenitude of nuances and emotions which it can express is his way to confess to the audience :
"It's always good. I'm glad to come home, to sing for my people. I really hope that at least for a moment or for a few seconds to have changed their mood or made them to forget about their problems or made them a bit happier."
The passion which Dragoș Dimitriu puts in his performance goes beyond the stage and the audience feels this, proved by their applause and their fervent request of an encore, the young pianist finishing this way the recital with a song by Astor Piazzolla.
Jeanine Costache
Translated by Matei Denisa
MTTLC, University of Bucharest, 2nd year