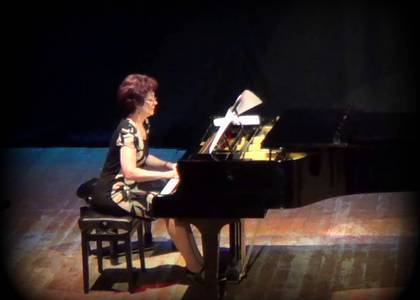 Remembering the pianist Silvia Totan in a recital at the National University of Music in Bucharest.
Friday, 17 March 2017 , ora 13.35

Last night, the 16th of March 2017, in the Opera and Multimedia Studio of the National University of Music in Bucharest, a canto recital was held in the memory of Silvia Totan, pianist and professor, who passed away two years ago.
In front of a large audience, former students and colaborators of Silvia Totan performed on stage, some of them were still students, other singers were already famous on the great stages worldwide, as follows: Cellia Caterina Costea - currently lead singer for the Vienna State Opera, Andrei Lazăr, Georgeta Grigore, Daniel Stoica and Vicențiu Țăranu, among others.
The first and last moments of the evening consisted of two musical surprises prepared by the soloists: together, they performed Ave Maria and Music from the Waves of the Danube operetta, written by George Grigoriu. Apart from these, we were delighted with the echoes of famous arias and duets from works such as The Marriage of Figaro or The Abduction from the Seraglio by Wolfgang Amadeus Mozart, Cavalleria Rusticana by Pietro Mascagni or A Masked Ball by Giuseppe Verdi.
Throughout this musical evening that lasted for almost three hours, the following spoke of the pianist Silvia Totan: father Gabriel Cățe; bass-baritone Gabriel Vamvulescu, member of the Los Angeles Opera, the pianist's husband, conducter Florin Totan, and musicologist Grigore Constantinescu, who also presented the entire performance.
- After listening to the two children that grew in her care, I thought that her calling, apart from being a musician, was that of a guardian angel. Few pianists have followed such careers, have stood by those who wanted to study music and who continued playing and she offered them every ounce of her personality.
The fourteen lead singers were accompanied on piano by Andreiana Roșca-Geamănă, the person who initiated and organized this memorial concert:
- Silvia has inspired me. I wanted to organize this around her birthday and we were lucky to find a place for the 16th of March. They answered incredibly fast. I posted the announcement on Facebook and within 10 minutes, people started giving suggestions and expressing their willingness to perform. Her former students reacted beautifully, especially the older ones, but so did the ones who had met her in the final year of her life.
Ana Diaconu
Translated by Ruxandra Vorotneac
MTTLC 1st Year University of Bucharest