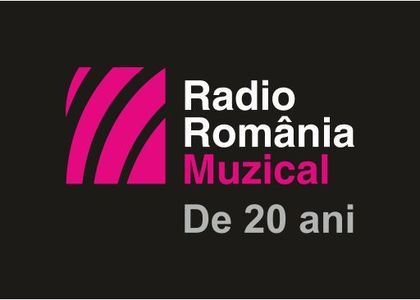 Radio România Muzical celebrates 20 years of activity
Tuesday, 21 March 2017 , ora 9.56

On the 24th of March 1997, Radio România Muzical was broadcasting for the first time and it was, until present time, the first and only Romanian radio station dedicated to classical music and jazz. 20 years have passed since then, time in which Radio România Muzical certified its value and importance in the Romanian cultural landscape.
The 24th of March 2017 is a day of celebration for Radio România Muzical: from 7 AM to 7 PM, the broadcast contains only musical works suggested by its listeners, as well as the messages they convey:
"I discovered you by chance, a few years back, while having to drive for many kilometers daily, and you've trully turned out to be more than just a friend. I've never had a musical background, just my love for good music. In time, however, listening to you daily, I started to widen my knowledge and refine my tastes in the matter, I've created my own CD collection. Through you I've also discovered Sala Radio. Valuable musicians, famous conducters, brilliant repertoire… these are the key ingredients for high standard concerts. I'm a unversity professor and I teach a subject related to the Exact Sciences. Every semester, I take my 1st year students to see a concert at Sala Radio and it trully is a wonderful experience. You've broadened my mind and brightened my life. On this day of celebration, to all who work in this wonderful team, I wish good health and strength to keep your title as creator of authentic values!" - Aureliana Roman, Bucharest
"Tell me, what do you wish to be: object or subject? If you wish to become a subject, you need to find your calling, you need a vision, you must be cultured. Radio România Muzical excells at forming cultured and emancipated people, thus helping you become a subject." - Radu Burlacu, Bucharest.
"Radio România Muzical is the radio station that ensures me the most wonderful moments every day. I congratulate you for your passionate and highly professional broadcasts! The "5 minutes of classical music" project is marvellous and it offers children an extraordinary occasion to listen to and then grow fond of classical music. I strongly believe that auditions leave a powerful mark on children, contributing to the development of their personality. Happy Anniversary, Radio România Muzical!" - Simona Manea, Sibiu
"I don't like soppy or boring messages. I just know that Radio România Muzical brings me happiness and serenity every day." - Costin Călărașu, Ploiești
"I wish you Happy Anniversary, happiness and plenty achievements. May you live long, we need you!" - Ioan Donisa, Alba Iulia
"To the best radio station in Romania, for its authenticity and professionalism, for its best producers, who are passionate and gifted, for the constant contribution towards the enculturation and education of Romanians, for the value added to our daily lives and the respect of true values, you have my appreciation and gratitude, endless congratulations, achievements and success, and a very lengthy life! Long live good music! " - Călin Valerica, Ștefănești, județul Argeș
"After 20 years, I'm still one of your fans! I can say, without exaggerating, that Radio România Muzical is the soundtrack of my life, it enriches me culturally and spiritually! I think that in 20 more years, I will probably say the same thing, my vocabulary is too poor to express the endless gratitutde coming from my heart!" - Lavinia Stoian, Bolintin Deal, județul Giurgiu
"I listen to Radio România Muzical every day via live streaming on my Mac laptop. Great programming. Congratulations! Happy anniversary!!!" - Victor Hickman, Berkley, Michigan, United States of America
The 24th of March will end with a special evening suggested by the National Radio Orchestra, conductor Cristian Măcelaru and pianist Alexandra Dariescu, a concert broadcasted live at 7 PM, celebrating the anniversary of Radio România Muzical. Cristian Măcelaru, one of the most important Romanian conductors with worldwide activity and pianist Alexandra Dariescu, one of the best regarded musicians of Romanian origin, who is currently playing in Great Britain, insisted on joining Radio România Muzical for its anniversary, in a concert that comprises Piano Concerto no. 2, by Serghei Rachmaninov and Anton Bruckner's IV th Symphony.
The celebration continues for the next couple of days because on the 25 th and 26 th of March, starting 10:30 AM, you can listen to the recordings of Radio România Muzical 20th anniversary recordings, performed at Cotroceni National Museum by Alexandru Tomescu (16th of March) and pianist Luiza Borac (23rd of March.)
Most philarmonics and opera houses in Romania dedicated their concerts and shows between the 20th and the 26th of March to the anniversary of Radio România Muzical, emphasising the importance of this radio station in the musical landscape of Romania.
Happy Anniversary, Radio România Muzical!
Radio România Muzical started broadcasting on the 24th of March 1997, in Bucharest. In the last 20 years, it strenghtened its importance in the quality of media and cultural landscape; it has also remained the only Romanian radio station broadcasting classical, jazz & more. 24 hours per day, Radio România Muzical promotes the greatest values of Romanian and worldwide works, in branded performances, either Romanian or foreign. Radio România Muzical is the only radio station where one can listen to the works of GeorgeEnescu, for example, or Paul Constantinescu, Mihail Jora or recordings by Radu Lupu, Dan Grigore, Dinu Lipati, Ion Voicu or Sergiu Celibidache.
Radio România Muzical is connected to the reality of international concert stages through the performances it broadcasts, either live or recorded, taken from the European Broadcasting Union network. Radio România Muzical broadcasts plays performed at the New York Metropolitan Theatre, at La Scala in Milan or at Covent Garden in London, along with concerts from great festivals in Salzburg, Lugano, Lucerne or unforgettable events, such as the concert for the grand opening of the Elbe Philharmonic Hall in Hamburg, January 2017.
Radio România Muzical offers its European Broadcasting Union partners events that take place in Romania, some organized for the European Broadcasting Union seasons, such as the "Bucharest, a city of music" festival in 2007.
Radio România Muzical is a promoter for young Romanian musicians of great value. In 2013, suggested by Radio România Muzical, violinist Răzvan Stoica took part and won the New Talent contest in Bratislava, introducing him to the international concert life. Other young musicians suggested by Radio România Muzical for the Prague Concertino contest have won important prizes throughout the years. Among them is violinist Alexandra Bobeico - 1st place (2013), cellist Cornelius Zirbo- 2nd place (2016), violinist Mălina Ciobanu - honorable mentions (2013).
Radio România Muzical broadcasts and records the most important musical events in Romania, from the George Enescu International festival to the Tuesday evening events held at the Romanian Athenaeum for young musicians.
Radio România Muzical has organized some unique events in the Romanian cultural landscape, from the "Dinu Lipatti" Festival in 1999, with the famous pianist Elisabeth Leonskaja as one of the protagonists, to "Lipatti Days" in 2010 and seasonal concerts organized in 2014 and 2015 at the Cotroceni National Museum.
In 2010, Radio România Muzical has organized the project called "5 minutes of classical music" in unconventional places, for the first time. Today, "5 minutes of classical music " is one of the main cultural projects from Radio România Muzical, taking place on 2 levels: unconventional places (malls, hypermarkets, book stores, museums, firms, furniture and bricolage stores) and schools.
In 2013, Radio România Muzical organized the first edition of the "Classical music record of the year" project. The musicians from the winning records in the past 4 years are: violinist Laura Buruiană and pianist Ferenc Vizi (2013), pianist Alina Azario (2014), pianist Raluca Știrbăț (2015), violinist Alexandru Tomescu (2016).
Radio România Muzical can be found on two frequencies: 104.8 FM (Bucharest) and 97.6 FM (regional frequency), as well as through live streaming on www.romania-muzical.ro and through the IOS and Android apps. On www.romania-muzical.ro we offer a large audio archive of broadcasts, chronicles, interviews, news and other 7 streams on demand.

Translated by Ruxandra Vorotneac
MTTLC 1st Year University of Bucharest