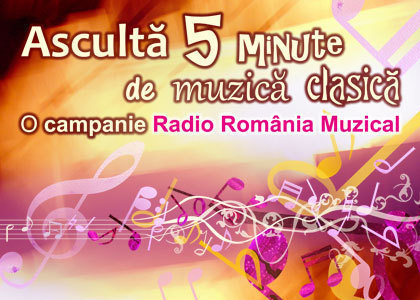 Listen to 5 minutes of classical music in unconventional places - Carrefour Băneasa
Wednesday, 29 March 2017 , ora 11.36

On a Tuesday in Băneasa, it's a little after 6 PM and… in the store we are visiting, after the usual hits combined with the store's adverts, comes "The Musical Moment" created by Nicolae Kirculescu.
"It's teleenciclopedia!"
The shoppers at Carrefour Băneasa enjoyed the 5 minutes of classical music, thanks to the project put in place by Radio România Muzical, and some of them talked about this initiative.
"It's a delight for me. I think that taste can be acquired."
"I find it quite OK, especially since nowadays there is no education in this respect, and I think there are a lot of people who will find that they like it and that it's enjoyable. They're really making a difference!"
"I'm not well acquainted with classical music, but I enjoy listening to it. I really like Radio România Muzical. I listen to them every day."
"I find it very interesting. I think it's time we met this side of art and culture, especially since it has so much to offer, and I think that we, as a nation, are a bit behind in this area. And I think we've had notable people that we should appreciate - Enescu, Lipatti… I know you've had the Lipatti project - 100 years since his birth. I think that what you are doing is wonderful and that you should continue doing it, and not abandon the project, because it's in the interest of our young generation, and others."
"It's a marvellous idea! Well, I'm being subjective because I like listening to classical music. I've been following this project from the start, I think. Due to my job, I keep going to these less conventional places where you broadcast the "Listen to 5 minutes of classical music" programme. I've been listening to it from the beginning. At that time, people were a bit reserved, but they got used to it. I have nothing but praise for this project. It's probably one of the few contexts where they can develop a taste for this type of music."
As you may know, the project will go on until Friday, March the 31st inclusive; we invite you to listen to the five minutes of classical music in unconventional places all around the country - hypermarkets, malls, hardware and furniture stores, book shops, museums and office buildings. At the same time, for the third consecutive year, "Listen to 5 minutes of classical music" is taking place in Romanian schools thanks to the partnership between the Ministry of National Education and Radio România.
You can find more details about this initiative, about Radio România Muzical and about the contest for the pupils on our website, in the section dedicated to this project.
Lucian Haralambie
Translated by Petcu - Ciubuc Simona
MTTLC, University of Bucharest, 2nd year