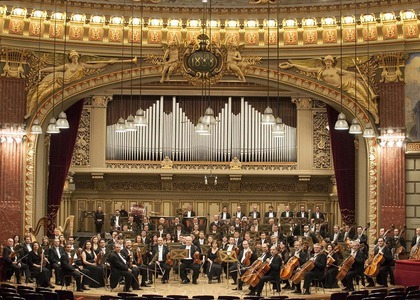 The first complete audition at the Romanian Athenaeum.
Friday, 7 April 2017 , ora 8.57

Yesterday evening, the 8th of April 2017, we have witnessed a performance that was part of the "George Enescu" Philharmonic. The Great Hall of the Romanian Athenaeum seemed too small in the first half of the concert, when violinist Remus Azoiței interpreted the Violin and Orchestra Concerto in D major by Pyotr Ilyci Tchaikovsky.
"Tchaikovsky's work is always difficult. You never know what will happen and that's what makes it the most grandiose concerto for a soloist and for the orchestra. It's a celebration! And we're going to have a good time. I always have to be in top shape and openhearted when I perform at the Athenaeum."
The continuous rounds of applause encouraged the soloist to offer us two encores that have also been highly appreciated: Caprice no. 9 by Niccolò Paganini and Caprice no. 4 from the works of Henryk Wieniawski.
Unfortunately, the second half of the event was left with only half its audience, who witnessed a work that was presented in the first complete audition by the "George Enescu" Philharmonic Orchestra, conducted by Camil Marinescu. We're referring to The 5th Symphony, work signed by Romanian composer Adrian Iorgulescu.
Camil Marinescu said a few words about this symphony:
"It was my wish. When I first looked at the sheet music, I instantly fell in love with it. I hope the public understood his work the way I did, because I'm not supposed to talk about the music I make, someone else should. In general, the orchestras accept the contemporary Romanian or foreign programs with great difficulty, because the artists usually feel that the audience is not accustomed with it and these sort of concerts might not be to their liking. In my opinion, it has happened way too often in the history of music that artists refuse to emphasise the value of their contemporary composers."
And also, composer Irinel Anghel:
"The work of Adrian Iorgulescu is a monumental piece of art. He works with volumes, it is almost a temporal sculpture that impresses through a broad blast. It has 40 minutes of music that keeps you in emotional suspense and creational and imaginative tension that is absolutely extraordinary for nowaday's artists that still have the power to create symphonies, create such valuable works. Therefore, I am extremely pleased by this first audition and I do hope to witness at the Athenaeum, at the Bucharest Philarmonic, as many premiering Romanian auditions as possible."
Ana Diaconu
Translated by Ruxandra Vorotneac
MTTLC 1st Year University of Bucharest