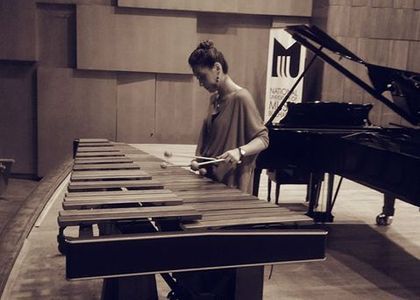 Multiple anniversaries at the Musicology Symposium within the 'Keys' Festival
Monday, 10 April 2017 , ora 14.37

Thursday and Friday (the 6th and 7th of April 2017) we have witnessed a new musicology symposium presented by the National University of Music in Bucharest within the 9th edition of the "Keys" Festival. Although the event poster announced a large number of celebrated musicians (of which we previousely discussed during some occasional interventions), the two protagonists of the debate were pianist and composer Dinu Lipatti, having celebrated 100 years from his birthday in March, and famous contemporary composer and teacher, Dan Dediu. The latter turned 50 years old in 2017, and, up to the present date, the portfolio of works include over 150 opuses, to which we add a considerable number of studies and published books.
Musicologist Irina Boga, the symposium coordinator, offered us a detailed description of the two days:
"The Musicology Symposium, taking place within the 6th and the 7th of April 2017, within the "Keys" Festival held by the National University of Music in Bucharest, has just come to an end. Designed as a colaboration between the Musicology Department and Educational Sciences, Research, Innovation and Information Department and the website dinulipatti.org, the themes of the event joined 2017's anniversaries with interpretation and analysis issues: Ogive over time: Claudio Monteverdi, Georg Philipp Teleman; The 20th Century, the dynamics of sputtering: Enrique Granados, Scott Joplin, George Malcolm, Maurice Ravel, Jean Sibelius, Zoltán Kodály, Astor Piazzolla; Novelty, innovation, analysis - John Cage, Olivier Messiaen, Karlheinz Stockhausen, Dan Dediu; Dinu Lipatti centenarium; General problems of musical interpretation. Two topics in particular drew the interest of the participants - the personality of composer Dan Dediu, celebrating his anniversary, and the personality of Dinu Lipatti, celebrating his centenarium this year. Dan Dediu represents a symbol of the academic life in Bucharest, his personality combining the traits of a composer, an artist, an event promoter, a rector, a maestro, has incited a series of honorable guests to conceive effervescent works, investigating the diverse appearances of the musician in the Romanian musical landscape: Prof. Dr. Olguța Lupu, Corneliu Dan Grigorescu, Dr. Sebastian Androne, Prof. Dr. Grigore Constantinescu, Lect. Dr. Mihai Măniceanu or Prof. Dr. Gabriel Banciu.
În the second day of the symposium, after debating Telemann or Ravel, the discussions peaked while remembering the personality of Dinu Lipatti. Whether we were talking about unknown letters (Prof. Dr. Sanda Maistorovici), controversial traits (Lect. Dr. Veronica Gașpar) or profound and captivating evocations (Grigore Bărgăuanu, Prof. Dr. Lavinia Coman), Dinu Lipatti proves that he does not cease to arouse the interest of the audience, this year's students being a more than voracious crowd. As a novelty, this year's symposium also addressed the PhD students and the BA and MA students, with the aim of actively involving the students in research and analysis activities, in modern investigations regarding the concept of past and present, thus joining the vision of specialists with growing points of view."
Ana Diaconu
Translated by Ruxandra Vorotneac
MTTLC 1st Year University of Bucharest