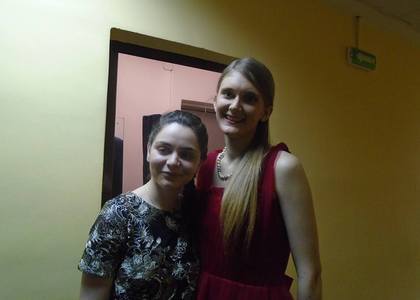 Tuesday Evening's Season - the 11th of April 2017
Wednesday, 12 April 2017 , ora 9.36

After giving a concert during the Tuesday soirees, in March, 2016, together with the Japanese violinist Mao Konishi, with whom she makes up "Duo Presto", the talented pianist Daria Tudor returned to the Small Hall of the Romanian Athenaeum, with another partner from Berlin - the Finnish soprano, Iida Antola. Daria Tudor, a vibrant musician, who at only 9 years of age held concerts with the Radio Chamber Orchestra, has certainly attracted a large public, and on the 11th of April, the Small Hall of the Romanian Athenaeum was filled to the brim with those who came to listen, during the first half, to two works by Franz Liszt. She caught everyone's attention, from the very first chords, with her talent, backed up by a very fine pianistic technique, with her creative intuition, and with her power of expression, which showed, among others, artistic maturity. "Sleep Tight" - this was the name of the second part of the musical recital, for which the pianist Daria Tudor and the Finnish soprano Iida Antola chose those lieder inspired by the night theme, from the perspective of the Romantic composers, who emphasize the beauty and the tranquillity of night, and also from that of the contemporary composers, who emphasize the darkness of night. Music lovers and specialists alike appreciated the two musicians' performance on the 11th of April; in the audience there was also Mihaela Tomescu, the president of the "Remember Enescu" Foundation:
"I'm very glad that I could make it to this recital, knowing that the wonderful pianist that is Daria Tudor was going to perform, and thinking of how much she's grown, how beautifully she's performed alongside this soloist who has captivated us all, or at least me, and with her chosen repertoire - less played here - but also with an interpretation full of sensibility, of perceptiveness, of profoundness…a very beautiful, very pleasant scenic presence. A very, very well executed recital!"
Containing three contemporary works, we could say that we have experienced an eclectic recital, about which the pianist Daria Tudor says:
"We've met in Berlin, at the course on contemporary lieder. Two days ago, I had two recitals in Finland with her and then came to Romania with this programme, adding, of course, Schubert and something solo so as to include more things and make it easier to stomach. I personally think that the Romanian public is very open towards contemporary music, only it doesn't happen regularly. Abroad, people are aware that this is the music that is composed today and it is placed on the same level as what we call classical music."
Jeanine Costache
Translated by Adriana-Cătălina Grigore
MTTLC 1st year, University of Bucharest