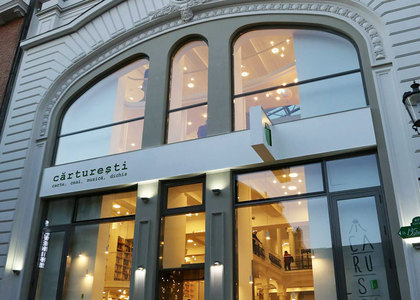 Record release: 'Twenty Shades of Music'
Friday, 21 April 2017 , ora 9.31

In the spectacular space which the
Cărturești Carusel
bookshop offered, there was last night a simple and tasteful record release. Entitled "
'Twenty Shades of Music", a title which was inspired by the famous and outrageous novel by E. L. James, the discographic entry of the flutist Ion Bogdan Ștefănescu and the guitarist Costin Soare is wanted to be something different for the Classical universe in Romania. With music mainly sensual, warm and exotic, the record wants to be an incursion in the privacy of the Southern America and of the Balkans.
At the release, the writer Ioan Groșan and the composer Dan Dediu were there, beside of course the two artists.

This is what Dan Dediu said about the recorded album from the George Enescu stage of the Music University in Bucharest:
"All the music on this CD, the 20 songs, belongs to the South, the Southern America and the Southern Europe. There are very different sides. The thing which you remark while listening to this CD is the very personal approach of mixing music which I sometimes know. The six Romanian dances by Bartok are old hits. The flute-guitar combination also has something aquatic and aerial, at the same time. The flutes are connected in this music in an absolutely amazing way. And Augustin Soare's guitar, with its harmonies, well-placed on the instrument, creates an atmosphere which feels good together. I never felt that an instrument is the accompanist and the other is the solist."
Details about how this album was recorded will be shared by the flutist Ion Bogdan Ștefănescu:
"It is very hard to record at the Music University because all the students are studying and then you have to get a special permit to record at night. Only then you can have a suitable silence to record. And indeed, ms. Florentina Herghelegiu astounded us with her profesionalism which was practised in many decades at Electrecord and now, the Music University is fortunate to have her and, thanks to the flair of the then-rector, Dan Dediu, she was taken in by the National Music University."
About the collaboration with Ion Bogdan Ștefănescu, the guitarist Costin Soare has spoken at the end:
"In 2006, I collaborated for the first time in this In memoriam Doru Tache Nițu and since then, we remained together in this beautiful project, playing from Baroque music to Contemporary music. In fact, this CD is, may I say, an anniversary CD because we are playing for over 10 years together and I hope you'll enjoy the music I recorded."
Radu Mihalache
Translated by Matei Denisa
(MTTLC, University of Bucharest, 2nd year)