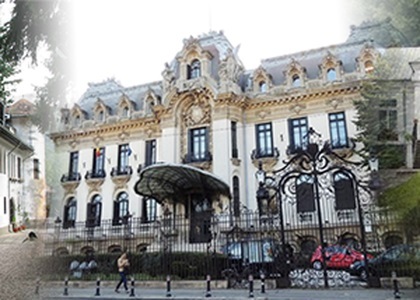 Lieder, duets and arias recital at the 'George Enescu' National Museum
Friday, 5 May 2017 , ora 10.08

The evening of the 4th of May, known as the day George Enescu left this world for a better place, was celebrated at the museum in Bucharest that bears his name, through a vocal and piano recital that delighted us with a programme comprising lieder, duets and arias exclusively from Enescu's work. Ten out of the 14 songs in verses by Carmen Sylvia, one of the Songs in verses by Clément Marot and two arias of the famous opera Œdipe were introduced to the public by two laureates of the contest dedicated to George Enescu in Paris. First, mezzo-soprano Martiniana Antonie, still a student at the National University of Bucharest:
"I have to admit that I have bonded with the work of George Enescu especially because of the contest that's dedicated to him. I think it was the first time I was encountering one of his works ever since I started preparing myself for the contest in Paris. Now I can say that I'm much more fond of his works and I'm slowly falling in love with it even more."
Second, bass Radu Cojocariu, an already active name on the international lyrical stage:
"Ever since I was little, I have listened to a lot of Enescu's work at home. My parents were music professors. My dad was a huge admirer of Enescu, thus, his work is very familiar to my ears and to my heart. And he was also born near Botoșani, the place where I was actually born. Maybe the land brought us a little closer together."
The two were accompanied on piano by Cezara Petrescu.
The warm and pleasant atmosphere was also maintained by the two presenters, journalist Marius Constantinescu and composer Carmen Cârneci, who also coordinated the event at the "George Enescu" National Museum:
"I responded to the enthusiasm which Radu Cojocariu expressed when he said he wanted to interpret Enescu's music in this place. And starting from that, we've both put together a programme in which we've included Martiniana Antonie, on his suggestion, but I, too, have already met them both. I noticed them back in October 2016, in Paris, at a gala where, deviating a bit from our story, Radu Cojocariu interpreted two Psalms for me. Getting back on track. I was present and I was glad for more than just my composition, but also for the fact that I have found these two musicians, among all the laureates. They are compatible level-wise, and, of course, you have witnessed the utmost enchanting duets that they interpreted."
Lastly, Marius Constantinescu presented the two musical events that will celebrate the memory and works of Enescu this fall. We're talking about the George Enescu International Festival, Œdipe being the opening act of the event, interpreted by the London Philharmonic Orchestra and conducted by Vladimir Jurowski, and the Rencontres musicales Internationales Georges Enesco canto contest, its fourth edition taking place in October, in Paris.
Ana Diaconu
Translated by Ruxandra Vorotneac
MTTLC 1st Year, University of Bucharest